Post by christine~ on Apr 7, 2008 12:58:21 GMT -5
I guess this is what you would call an eppylover review of a book review! ;D
Must mention one example of the type of utter drek that has occasionally slapped me in the face over these past 40-odd years.
There's a new book coming out called
Going as Far as I Can: the Ultimate Travel Book
by Duncan Fallowell. According to
a review in the Telegraph.co.uk
~ the reviewer, Tibor Fischer, writes ~
The best theatrical anecdote concerns Noël Coward (and this was already an old quip in his day) who, on hearing that Brian Epstein had blown his brains out, remarked: "He must have been a very good shot."
To this quote, your faithful Eppylover must comment ~ that even though the entire article/review was far from complimentary to the book, unfortunately Tibor Fischer failed to specify that this so-called "best theatrical anecdote" was a blatant lie.
So, what does this tell us about the reviewer? Well, to me this says that ~
~ either Fischer blithely assumed that the accidental nature of Brian's death was universal knowledge and used the anecdote sample as an example showing the book was faulty ~
~ or (even more likely), Fischer was clueless enough to actually believe that Brian "blew his brains out," and lazy enough to carelessly pass the fallacy on without bothering with minimal research.
You might say "oh well, one dumbass isn't going to be of much consequence," ~ but unfortunately I have found through the years that such clever-sounding, snarky yet totally erroneous tales such as this one ~ a quip that would actually pertain more to Kurt Cobain than Brian Epstein ~ tend to be repeated, believed, and become part of historical "knowledge" far MUCH MORE than the actual, much more boring, facts.
As for Noël Coward, well ~ what can you expect of a self-important blowhard who, in his own words, was "INFURIATED by those bloody little Beatles going to Buckingham Palace," and whose summation of a Beatles' concert consisted of "bad-mannered little shits who had a certain guileless charm and stayed on mercifully for not too long" ...?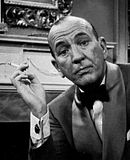 Perhaps Coward was still miffed at Brian for being unable to force the Beatles into an audience with him, one of those bow-to-my-greatness meetings he was accustomed to having bestowed upon him. The boys ~ gasp! ~ refused to kowtow to the almighty Mr Coward after they heard and read all the Beatles-denigrating shite he felt justified as an "upper-class wit" to snobbishly spew to the press.
A flustered Brian was finally able to persuade Paul and Jane to quickly say hi to Coward, but it wasn't the fawning group grovel that he expected.
So maybe that's where the insensitive "blew his brains out" wisecrack came from. Poor baby has his pride bruised by Beatles, take it out on Brian's memory.
That's how I see it, anyway.