Post by christine~ on Sept 17, 2009 18:32:49 GMT -5

As founder/CEO of Tiwary Entertainment Group (
www.tegltd.com
) and StarPolish (
www.starpolish.com
), Vivek J. Tiwary is involved in production, management, marketing, and financing of film, theater, music, and television.
Vivek is also an accomplished writer and director of music videos, short films, and commercials, as well as a record producer of musicians in all genres.
Vivek is the writer and director of "The Fifth Beatle" (www.fifthbeatlemovie.com),
a feature film in development and based on the life of Beatles' manager Brian Epstein.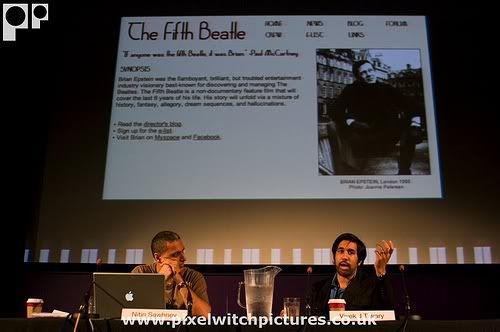 He is a producer of "The Addams Family," a forthcoming Broadway musical based on the iconic cartoons that spawned the hit TV series and several successful films.
He is also a producer of "American Idiot", a forthcoming theatrical/musical adaptation of rock band Green Day's multi-platinum album.
He is a producer on "Down & Dirty Pictures," a narrative feature film adaptation of Peter Biskind's bestselling Hollywood expose.
He was a lead producer of the Tony Award-winning Broadway revival of "A Raisin In The Sun," starring Sean Combs, and he is a Limited Partner in Mel Brooks' Tony Award-winning Broadway musicals and touring shows "The Producers" and "Young Frankenstein."
Vivek also serves as CEO of multi-faceted music company StarPolish, whose divisions include StarPolish Presents (a booking agency and event production company), Marketing, and Online Education/Empowerment. In 2008, Vivek produced a theatrical collaboration between electropop/performance artists Fischerspooner and avant-garde theatre collective The Wooster Group (founded by Willem Dafoe, Spalding Gray, and others) that launched the Sao Paulo Art Bienal.
Prior to founding TEG and StarPolish, Vivek held a number of major label music-industry positions, including launching and running the Alternative Marketing Department at Mercury/PolyGram Records, and managing Video Promotion for Mercury/PolyGram, where he worked closely with MTV and VH1.

Vivek has worked with artists covering the entire musical spectrum including Bruce Springsteen, Shania Twain, Bon Jovi, Pearl Jam, Kiss, LL Cool J, John Mellencamp, Allen Ginsberg, Oasis, Hanson, and The Mighty Mighty BossTones to name but a few.
| | | |
| --- | --- | --- |
| | Among his many charitable pursuits, Vivek is the Co-Founder of Musicians On Call (www.musiciansoncall.org), a nonprofit organization that uses music and entertainment to complement the healing process. | |
EPPYLOVER NOTE: Please excuse the advert link to the right of the video.
This is how Proboards properly pays for permission from YouTube to embed a video.

The most important thing not shown by this video is the fact
Musicians On Call was equally Vivek's idea and creation ~
but Michael Solomon seems to be the public face for it.

Ah, Mr Tiwary. Such a modest, shy genius.
Remind you of anyone?

---
He is a Magna Cum Laude graduate of both the Wharton School of Business and the University of Pennsylvania's College of Arts and Sciences.
Vivek also holds a filmmaking certificate from The New York Film Academy and is an acting student of Susan Batson/Black Nexxus Acting Studio.
velvetrope.com/starpolishlife/Vivek-J-Tiwary-biography/