Post by yerblues1968 on Sept 7, 2009 15:11:05 GMT -5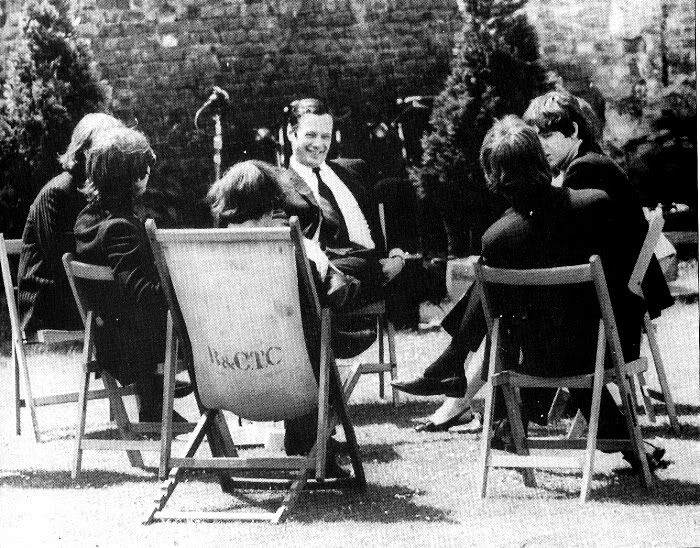 Brian Epstein sitting with 'his boys.'
DRAB TO FAB: HOW THE BEATLES CHANGED FASHION
The Sunday Times
Georgina Howell
September 6, 2009
No one can be credited with dressing the band. It was a process of cross-pollination from Carnaby Street
to junk shops
Before the Beatles had anything to do with fashion, they had to find a look in a battlefield divided between Mods and Rockers. Clothes labelled you so definitively that if you strayed beyond your patch into enemy territory you were asking for a fight. And that was before you got out of the front door.
Fifty years ago, so much for penniless teenagers was improvisation. If you wanted narrow trousers, you had to persuade your mother to taper them. In the days before pre-shrunk denim, we used to sit in the bath in our jeans until the banging on the door became intolerable.
For once it was men's clothes taking the lead. But it was no longer the Michael Chantrey-Inchbalds or Mark Gilbeys putting their stamp on fashion: the sons of a ship's waiter, a cotton salesman, a bus conductor and a baker called the tune and forged the 1960s marriage between fashion and music.
When Brian Epstein came into the Beatles' lives, he was a fastidious hangover from the 1950s, a man who was never young. In March 1962, for a gig at Barnston Women's Institute, he got them into the high-street tailors Burton, and sent them on stage in grey lounge suits with thin velvet lapels. It was Brian, with his love of flamenco, who put them in cuban-heeled boots with elastic sides, the much-copied chelsea boot.
The Beatles at a concert wearing Brian Epstein suggested suit and boots.
Stephen Guy, of National Museums Liverpool, was 14 when the Beatles had their first No 1. "Brian knew he had to make these scruffs acceptable to the public. But when he tried to take them to a Liverpool tailor, John was so foul-mouthed they declined to dress them." So, in late 1962, Brian took the boys to Douglas Millings & Son in London, who would make their clothes until 1967 and Sgt Pepper. This proved quite an undertaking. Fittings had to be taken wherever the Beatles happened to be, often at midnight, occasionally abroad. The suits that came offstage drenched in sweat went straight to the dry cleaners where fans would be lying in wait to tear off keepsake buttons, lapels, epaulettes. As their gigs multiplied, the Beatles' need for new clothing became inexhaustible. Only one Beatle, Paul, was interested in clothes, but they had all become aware of their common visual identity in Hamburg, where an awe-inspiring young existentialist, Astrid Kirchherr, had taken graphic black-and-white pictures of the band on industrial estates.
No single person can be credited with dressing the Beatles. It was a process of cross-pollination that proliferated with the spread of boutiques in Carnaby Street, the King's Road and the backwaters of Fulham and Kensington, alongside junk shops full of Victorian bric-a-brac, record players with trumpets and faded Edwardian frock coats: venues that rocked with Beatles music played at top volume. While the boutiques ripped off the tailor-made clothes on the album covers, the Beatles also bought ready-to-wear. Brian Epstein bought them "naval bridge coats" from Just Men. John bought the brown suede jacket he wore for the recording of their second album, With the Beatles, from Cecil Gee, and his black roll-neck sweaters from Sportique. Paul and John's flowery shirts on the back of Revolver, in August 1966, came from Granny Takes a Trip.
The public became aware of the Beatles' tangled finances in 1967, when Lennon was asked about the band's income. "Not income," he replied. "Outcome." Their idea for the £2m they had between them was to keep it out of the taxman's hands by investing in a boutique, and they opened Apple — the precursor to the corporation — on Baker Street.
An early 1960's photo of The Beatle at The Cavern Club. The Beatles last performance
at The Cavern Club was 3 August 1963.
Unlike Bianca Jagger some years later, the Beatle women didn't lead fashion so much as influence it by what they wore to be photographed. Pattie Boyd, who married George in January 1966, was a model who came to our flat in Shepherd's Bush a year later to be interviewed — I worked for Vogue at the time. A wonderfully pretty blonde in a pale crepe dress with lacy sleeves, she had recently joined the Spiritual Regeneration Movement, and ended the conversation by sitting cross-legged on the floor in a Buddha position, teaching us to meditate. She was the Beatle girl who most often appeared in Vogue, sometimes with her sister Jennie, in cotton dungarees or Liberty-print nightdresses. Jane Asher, a red-haired waif, was already an experienced actress and appeared in the magazine as often as she could be persuaded, usually in Tuffin & Foale, the designers discovered by the editor of Young Ideas, Marit Allen.
Among the generations, one 1960s survivor treasures the Beatles clothes and keeps them safe in the wardrobe, proud to show today's stylists and video presenters that he can still put them on and button them up: Paul McCartney, still fab after all these years.
entertainment.timesonline.co.uk/tol/arts_and_entertainment/music/beatles/article6820699.ece