Post by yerblues1968 on Jun 9, 2009 0:23:50 GMT -5
Julain Lennon
JULIAN LENNON COMFORTS AILING LUCY IN THE SKY
From The Sunday Times
Richard Brooks, Arts Editor
June 7, 2009
The Beatle's son reveals the woman who inspired the famous song has an incurable illness
MORE than 40 years after John Lennon wrote
Lucy in the Sky with Diamonds
, his son has gone to the help of the real Lucy, who is now suffering from an incurable disease.
Lucy O'Donnell, who was at nursery school in Surrey with Julian Lennon, became "the girl with kaleidoscope eyes" as the subject of one of the Beatles' most famous songs, written at the height of their flirtation with psychedelia.
Lucy O'Donnell who inspired
Lucy In The Sky With Diamonds
.
Julian had drawn a picture with starlike shapes before telling his father that it was "Lucy in the sky with diamonds".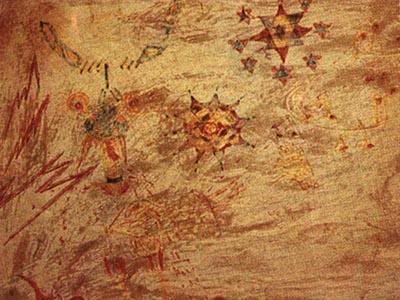 The water color painting of 4 year old Julian Lennon's
Lucy In The Sky with Diamonds
.
His father used it as a title for a song he penned for the
Sgt. Pepper's Lonely Hearts Club Band
album, which was released in 1967.
Lucy, now 46, is suffering from lupus, an auto-immune disease where the body attacks its own cells, causing immense pain and organ breakdown.
Two months ago Julian, who lives in France, heard through his personal assistant, who knows Lucy's sister, that she was chronically ill. "I've been able to help out a bit," he said. "I was so upset to hear what had happened."
Julian revealed the plight of his father's unwitting muse – now Lucy Vodden after marrying 13 years ago – in an interview with The Sunday Times ahead of a new exhibition of John Lennon memorabilia.
The Beatles "Lucy In The Sky With Diamonds"
from the movie, "Yellow Submarine." (3:27 minutes)
www.youtube.com/watch?v=A7F2X3rSSCU
It marks a "reconnection" with his father's memory. Lennon divorced his mother, Cynthia, when Julian was five, to free him to marry Yoko Ono, and then rarely saw him for years after.
They were later partly reconciled and Julian, who has had his own successful musical career, made his musical debut at the age of 11 on his father's
Walls and Bridges
album, playing drums on
Ya Ya
.
Julian enjoyed immediate success with his debut album Valotte in 1984. It reached the top 20 album chart and spawned the No 6 single,
Too Late For Goodbyes
. His last hit was in 1991 with the single
Salt water
, which also reached No 6.
He has also had interests in film-making, sailing, sculpting and an internet business.
WhaleDreamers
, a documentary he produced and narrated about an an aboriginal tribe and its relationship to whales, was shown at the Cannes film festival two years ago.
Julian says he has finally forgiven his father for the appalling way he treated both him and his mother. "There is nothing but love now," he said. "If he was able to come into the room now, we'd hug and cry."
After Lennon was murdered in New York in 1980, Julian had few keepsakes from his father. During the past two decades he has spent £1m buying up a collection of Lennon's possessions. "It is in a way horrendous that this is what I needed to do to get my father's possessions," said Julian. "Yet I'm lucky too that I now have the money."
He says the hostility between him and Ono, as well as his half-brother Sean, is in the past.
He and his mother Cynthia will appear together at a ceremony on June 16 when he will lend his collection to the Beatles museum in Liverpool.
It includes hand-written recording notes by Paul McCartney of Hey Jude, a song originally written as Hey Jules to console the then five-year-old Julian during his parents' divorce. The collection also includes Lennon's Afghan coat and his cape from the film Help!.
The whereabouts of Julian's painting of Lucy Vodden is uncertain, although at one stage it was in Cynthia's possession. Vodden says she never saw him drawing her but believes the painting must be worth at least £250,000.
When Julian initially heard of her illness he sent a huge bunch of flowers to her home in Surbiton, Surrey, with a personally written card. He followed up with garden centre gift vouchers because he had learnt that she took solace in looking at her plants.
"It was lovely of Julian," said Lucy, who has only seen him once – 23 years ago at one of his concerts – since they were both four. Julian did, however, send a greeting when Lucy married Ross Vodden in 1996.
"We were two very energetic school kids," she said. "He would say, 'Come on, Lucy,' to get me to do things. He was the bravest boy in school whom I recall jumping into a freezing swimming pool." She remembers Cynthia as being "lovely" but Lennon being "loud and frightening".
For many years there was speculation that
Lucy in the Sky with Diamonds
referred to the drug LSD. "Not so," said Vodden.
Some have suggested that "Lucy" was Lucy Richardson, who was several years older than Julian and attended the same school. She later worked as an art editor in the film industry on such movies as
Elizabeth
, starring Cate Blanchett, and
Chocolat
, starring Juliette Binoche and Johnny Depp. "Wrong again," said Vodden.
Julian suffered his own drink and drug problems. A new album, the aptly titled
Everything Changes
, is due out within the next year.
Over the years he has often criticised his late father. "But that is now all in the past," he said. "Yes, Mum and I were treated with disrespect. Yes, there was a lot of anger from Dad towards the two of us, but I can now understand why. Maybe it's the passing of time and me being older.
"I was actually very like Dad as we were both angry young men. He had locked all his emotions away about his own mother. It then came out as anger."
Lennon's mother Julia left when he was five and they were only reunited in his teens. She died in a car accident when Lennon was 17 while on the way to visit him at his aunt Mimi's home, where he lived.
"I too became extremely short-tempered and snide," said Julian. "But I've moved on. I'm a relatively happy camper now."
This weekend Cynthia, who lives in Spain, is staying with Julian in France. The two will travel to Liverpool next week to open the exhibition at The Beatles Story, which also includes a letter from Lennon to Cynthia after the divorce where he admits "being a bastard". The exhibition will include recordings from both Julian and Cynthia reliving their life with Lennon.
Julian says he never went to auctions himself to buy. "I would look at the catalogues, work out what I'd like and could afford, and send someone to bid. Some items I could not afford."
Julian now gets on very well with Sean, the son of Lennon and Ono, who is also a musician. "It's a fabulous relationship," he said.
Julian tells how he was in Croatia two years ago where Sean was playing. "I surprised him after the show by coming backstage. I then went with him in the van on the tour. We met up again last month when he was at the Cannes film festival with his girlfriend. There is not an ounce of anger between us." Describing himself as "the polar opposite" of his former self with a diet these days of salads, exercise and just the occasional drink, Julian always had a very good relationship with McCartney and George Harrison. "George and I were very close. He was one of the nicest and most generous people.
Paul McCartney and Julian Lennon
"Paul and I have always exchanged birthday and Christmas cards, and I last saw him in Las Vegas a couple of years ago."
Julian was excluded from his father's will after his murder, but eventually reached an agreement with Ono under which she gave him a large but undisclosed sum.
He now describes their relationship as cordial. "I unleashed hell on her, but we've made our peace. We're okay." The two had dinner together last year in New York. "There was no point in continuing the anger. It's a waste of time and energy," he said.
Lucy In The Sky With Diamonds: A Drug Story
www.testcountry.org/lucy-in-the-sky-with-diamonds-a-drug-story.htm
'Lucy In The Sky' Dies, 28/09/2009
www.breakingnews.ie/entertainment/lucy-in-the-sky-dies-428079.html
entertainment.timesonline.co.uk/tol/arts_and_entertainment/music/article6446014.ece