Post by christine~ on May 20, 2008 7:40:46 GMT -5
Fascinating excerpt ~ with much Brian mention ~
from chapter 5 of
{Linda McCartney-The Biography}
by Danny Fields.
This is Danny speaking about Linda, then going on to relate an anecdote about himself, Brian and Lou Reed of the Velvet Underground. Then the narrative launches into Danny speaking with Paul about Brian being gay, and
The Hours and Times
film.
Sorry, folks, but Brian was known to have used the F word when speaking off-the-record. Just a warning.
---
She had also met Brian Epstein, the manager of the Beatles and, some say, much more than that. He had been in New York many times in the early part of that year, mostly on Beatles business but also trying to get singer/songwriter Eric Andersen for a management deal. One of the most talented young men around at the tune, Eric suffered, as did so many other talented guys, because of the enormous shadow cast by Bob Dylan. Dylan was clearly 'in a class by himself, but he was not the only person hanging around MacDougal Street in Greenwich Village with a guitar and a suitcase full of songs. Joni Mitchell was another, along with the late great Phil Ochs, and of course Andersen, who was also the most gorgeous boy in New York, or certainly in the top ten. It was noted in
Harper's
magazine that 'At the age of 23, he is one of the mainsprings of the folk world. Tall, thin, with cheekbones like Rudolph Nureyev (the ballet dancer), he is what everyone who is eighteen in the Village wants to look like." Andersen wrote great songs, such as 'Thirsty Boots' and 'Violets of Dawn', had his first album released on the Vanguard label in 1965, had even made a cameo appearance in an early Andy Warhol movie, and Brian was in love with him.
I have to admit it was me - along with one of New York's towering intellectuals, who shall remain nameless - who chased Eric down Bleecker Street one day and into the Cafe Figaro and asked the question, to which there was only one answer, 'Would you like to be in an Andy Warhol movie?' We brought Eric up to Andy's factory, and he was no less thrilled to be there than Andy was thrilled to have someone in his studio who had actually made a record album. The movie was called
Space.
It was the first film where Andy actually panned the camera, i.e. swivelled it on its tripod, thanks to the advice of Paul Morrissey, then paying his first visit to the factory, where he eventually became the director of some of Warhol's most brilliant movies - and a very good friend of Linda and Paul McCartney. These were very early times.
Epstein, among the most impressive gentlemen I've ever known, knew me because of his friendship with a hunky young hustler named Richard Luger, who was 'staying' at my loft with his girlfriend, Patti D'Arbanville, now a successful actress. Richard was a very hot boy and Brian had something of a crush on him - this was in March 1967. Several times, at about three or four in the morning, a limousine would pull up outside my shabby building on West 20th Street and it would be Brian, looking for Richard. A few times, when Richard wasn't there, Brian would ask if he might come up and 'chat' for a while, which we did, far into the night... or until it became clear that Richard wasn't going to be back.
Acting the proper John, Brian took Richard to Acapulco for a week, to stay at a villa he'd rented. When he came to my apartment to pick Richard up and take him to the airport, he told me he'd forgotten to bring any records with him; was there something he could borrow, maybe just one, and then he'd get some more in Mexico? I gave him
The Velvet Underground and Nico,
the 'banana' album, which had just been released, and said, 'This is the greatest music you will ever hear.' (I was a Velvet groupie, truth be known, and have never revised that opinion to this day.) A few days after they returned, I ran into Brian at Max's Kansas City and he said, 'Goddamn you,' with a most inscrutable smile.
'Why?' I asked.
'That f**king album you gave me - I couldn't get any other records at all down there, so it's the only one we had, and it was on the turntable twenty-four hours a day the whole time we were there. It's made a hole in my brain.'
I told him I was glad he'd been exposed to some decent music at last (what a wag I was!), and he responded by saying, 'Mmm . . . yes,' and would I like a ride up to Ondine's in his car.
Bingo! Lou Reed, chief songwriter of the Velvet Underground himself, was in Max's at the time, so I ran over and told him to drop everything, for I was going to introduce him to Brian Epstein who was 'crazy' about the VU's debut album and maybe could be their manager. Lou was reluctant, I was insistent. The three of us got into the back of Brian's limo, Brian on the left, me in the middle, Lou on the right. Brian and Lou were looking out of the left and right windows, respectively, and sullenly, while I gushed: 'Brian's been listening to your record, Lou! He adores it!'
Lou grunted, 'Oh?'
'Brian,' I said, 'didn't you LOVE the Velvet Underground album?'
Brian mumbled, 'Most interesting.'
There was silence for the rest of the ride uptown, two miles which seemed to last a lifetime. When we got to Ondine's, Lou jumped out and announced he was taking a taxi back to Max's. Matchmaking is my middle name, always has been, always will be.
---
Much speculation has gone down the pike on the subject of the Beatles' awareness of Brian's gayness. It was not much of a secret in the early days of the band in Liverpool, although the subject in general was but dimly comprehended by that city's very conservative working- and lower-middle-class Irish population, whence the Beatles came. Nor was Brian's religious background comprehended all that well, either. 'Rich Jewish Liverpool', is Paul's description of Brian Epstein's ancestry. The gay thing can hardly have mattered much to the Beatles, after all the time they spent in the Reeperbahn area of Hamburg, the gay centre of Germany's gay capital.
Meanwhile, we must deal with the ongoing speculation about
Brian and John Lennon: did they or didn't they?

Nat Weiss says, 'No, and Brian told me everything.'
Paul, on the other hand, does not totally write off the story that Brian and John had a brief weekend-long affair in Barcelona. 'We'd always known Brian was gay,' Paul told me. 'I'd always credited the gay thing as a great entree. We were very lucky, I think, that Brian had such an entree in London showbiz, New York showbiz, any showbiz.'
A good time here to revisit a conversation I had with Paul and Linda in the garden of their modest hillside home near East Hampton, on Long Island.
Paul and I have been talking about Brian. Linda rejoins us with fresh drinks, starts to turn away.

L: Oh!

P: It's me, I'm your husband, sit down.

D: Yeah, sit down, we're talking about the movie The Hours and Times, in which the John Lennon and Brian Epstein characters spend a weekend in Spain in 1963. And the premise is that Brian is in love with John and that they have sex. That's implied, it's not on screen or anything.

P: Well, I'm sure Brian was in love with John, I'm sure that's absolutely right. I mean, everyone was in love with John; John was lovable, John was a very lovable guy. (According to Nat Weiss, 'There is no question in my mind that the Beatles happened because Brian fell in love with John. I mean, that was a motivating force for the whole thing.')

D: That's not exactly what this is about.

P: (to Linda) Hey, this is supposed to be your interview.

L: Carry on.

P: But this is relevant in a way. OK, Brian was a lovable guy. And John was sort of more, you know, very middle class, and Brian was middle class, and they could relate to each other.

D: As opposed to working class - John, I mean?

P: Yeah, as opposed to working class. So they would kind of know about this, what's expected of them, a little above people, a little superior. Then Brian invited him to come away to Spain. A couple of the guys whom we knew were sort of gay, with a bit of money, were going to Spain. I think the rest of us were a little peeved not to be invited, because somebody was getting a free holiday here.

D: Did you think John was going to have a gay sexual experience, or might have?

P: No, no, no, it didn't occur to us. And to this day I don't know. Now the gay bit, you tell me what you've heard, because I don't know anything.

D: It doesn't matter what I've heard. I want to know now, if you think it's possible that something happened between John and Brian?

P: It's more than possible, it's more than possible, but, as I've said, 'Come on, this is the f**king Beatles, everyone wants to imagine everything.' I never got any clue of anything but total hetero. If I saw John doing something, it would be ass bobbing up and down, f**king some chick. There were no real clues whatsoever of John's possible gay encounter with Brian. There were other clues, there were what straight people might call sexual deviancies. I wouldn't call them that. I'd call it a bit of a lad on the loose. You've got to remember, we all got out of home, we got out on the loose, we got into the Reeperbahn, we got into London, it was all kind of there, and all possible.

[/I]Why all this Brian Epstein stuff? As Paul said, 'This is relevant.' Brian died in the August of the year this chapter talks about, 1967. From that point on, it seems as if the Beatles were in freefall towards an inevitable dissolution.
Also, Brian was always more visible in New York than any of the Beatles ever were, if they were at all, except looking down from hotel windows or walking through Central Park with thousands of fans in tow. In a 1998 BBC documentary
The Brian Epstein Story: Tomorrow Never Knows,
Paul was the only surviving Beatle to be interviewed. His take on Brian was upbeat, almost adulatory; Brian's friends have said that no matter what Paul and Brian may have gone through, and there certainly were ups and downs, Paul came through for Brian on this show in a big way. 'Without Brian, there would have been no Beatles,' he concludes.
Besides, while some claim to
know
what happened in Barcelona, Paul leaves it deliberately ambiguous. It is also interesting to me, on a very personal level, that Linda was about to excuse herself from the conversation Paul and I were having about Brian's sexuality, when Paul told her to 'sit down'.
So, back to Brian and Eric Andersen, about two months after we left them above. Also enamoured of Eric's talent and beauty was a prominent publicist named John Kurland, who had very important clients, was no fool and was locked in a struggle with Brian over Eric's future that was the sensation of New York's gossiping crowd. It was very catty, and great fun to watch these gay Titans battle it out for the artistic and professional control of a boy who could not have been more straight, more sweet, or more baffled by what was going on around him. To have the Beatles' manager wanting to guide your career was overwhelming in 1967, when the group was at the height of their importance, when they were indeed in that overworked 'class by themselves" of all the entertainers in the world. To have him
fighting
for you was beyond dreaming about. (From Lillian Roxon's
Rock Encyclopedia:
'Beatle manager Brian Epstein was all set to sign him [Andersen] just before Epstein died in 1967.')
Eric, not unaware that he was the 'boy Brian Epstein wanted to manage', dropped in at Steve Paul's Scene from time to time and basked in the attention he didn't quite get in the Village, even though he'd headlined at Town Hall and was, according to
The Encyclopedia of Folk, Country & Western Music,
'one of the foremost candidates for Dylan's folk mantle'. It was at the Scene one night that Brian invited a select little crowd, including Eric and me, back to his palatial suite at the Waldorf Towers, got us stoned on the best grass anyone had ever had and played 'A Day in the Life', from the as yet unreleased, most anticipated album in the history of recorded music,
Sergeant Pepper's Lonely Hearts Club Band.
I think none of us had ever felt so 'in' as we did at that moment. And it was astonishing to hear that track, calculated as it was to amaze and the most ambitious production in the short history of rock - 'ambitious' becomes, perhaps, 'pretentious' with the passage of time, but I'm not a music critic, and I promise no more of that.
Brian knew Linda Eastman - I had introduced her to him with glowing reviews, mentioning in particular her photographs of the Rolling Stones. He had seen the famous 'crotch shot' of Brian Jones and was delighted to be meeting the photographer.
BRIAN JONES BY LINDA MCCARTNEY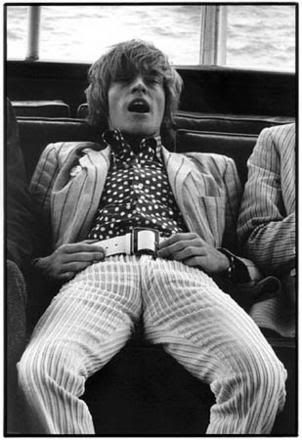 'Oh, I can show you a really good print of that,' Linda volunteered, and Brian said he was most eager to see that picture and any others that were 'so interesting'. Linda was planning a trip to London at the time and Brian told her to get in touch with his personal assistant, Peter Brown, when she was there, to arrange a meeting. She was going to England to take photographs for the forthcoming book
Rock and Other Four Letter Words,
photographs by Linda Eastman, text by J. Marks.
---
About the author:
Danny Fields has been a constant presence on the pop-culture scene since 1966, the year he met the future Linda McCartney. Fields has worked in both the music and magazine industry and has long been on the nominating committee of the Rock and Roll Hall of Fame. His close relationship with Linda McCartney continued until her death in April 1998.