Post by yerblues1968 on May 16, 2008 23:03:48 GMT -5
Sir George Martin
Born: January 3, 1926
Holloway, North London, Great Britain
By Frank Houston
He was the only "fifth Beatle" who really deserved the title -- without him the '60s' greatest group might never have happened.
George Martin was born on Jan. 3, 1926, in Holloway, North London. Sir George Martin CBE (born January 3, 1926 in Holloway, London, England) is sometimes referred to as "the fifth Beatle", a title that he owes to his work as producer of almost all of The Beatles' records. In recognition of his services to the music industry and popular culture, he is now a Commander of the British Empire (CBE). The son of a carpenter, he grew up poor, without formal musical training. He taught himself to play piano by ear, and at 16 started his own school dance band, George Martin and the Four Tune Tellers. He is also the father or producer Giles Martin.
From 1943 until 1948, he served with the British Fleet Air Arm as an observer in planes, rising to the rank of lieutenant. Paul McCartney later credited Martin's legendary composure to his military service: "He pulled it all together -- you're ultimately responsible, you're the captain. I think that's where George got his excellent bedside manner," McCartney is quoted as saying in Philip Norman's
Shout!
"He'd dealt with navigators and pilots ... he could deal with us when we got out of line."
Because Martin has a somewhat professorial demeanor, the obvious differences between him and the Beatles have always been played up, but in truth they had much more in common than it appeared. "I've been cast in the role of schoolmaster, the toff, the better-educated, and they've been the urchins that I've shaped. It's a load of poppycock, really, because our backgrounds were very similar. Paul and John went to quite good schools. I went to an elementary school, and I got a scholarship for that, and I went to Jesuit college. We didn't pay to go to school, my parents were very poor. Again, I wasn't taught music and they weren't, we taught ourselves," Martin told Billboard magazine. "As for the posh bit, you can't really go through the Royal Navy and get commissioned as an officer and fly in the Fleet Air Arm without getting a little bit posh; you can't be like a rock 'n' roll idiot throwing soup around in the wardroom."
After his military service Martin studied composition and classical music orchestration at London's Guildhall School of Music; his first job after graduating was at the BBC's music library, where he further cultivated the clipped, upper-crust accent that belied his humble roots. He entered the music industry in 1950, as assistant to the head of EMI's Parlophone Records, Oscar Preuss, and was soon made responsible for the label's classical recordings. He worked with artists like Stan Getz and Judy Garland, establishing himself as a jazz, classical and light music producer.
In 1955, after his boss's retirement, Martin was appointed head of Parlophone at 29, becoming the youngest manager of an EMI label. He worked with artists like Stan Getz and Judy Garland, establishing himself as a jazz, classical and light music producer. But he also sought new markets, in an effort to shore up what was then known as EMI's junk label. Martin produced a string of hit comedy and novelty records with Peter Ustinov, Peter Cook, Dudley Moore, Peter Sellers, Rolf Harris and Shirley Abicair, and, most notably, the Goons.
Adding rock and roll to Parlophone's repertoire, Martin struggled to find a "fireproof", hit-making rock artist or group. In 1960 the Temperance Seven gave him his first No. 1 hit in Britain with
You're Driving Me Crazy.
After watching the rise of another EMI label's act, Cliff Richard and the Shadows, Martin was eager to acquire a pop group for Parlophone -- just as
Epstein
was desperate to find a recording contract for the Beatles.
Epstein
had been turned down by major British labels Decca, Pye, Phillips and even EMI -- twice. Martin scheduled an audition for June 6, 1962.
Despite feeling that the Beatles' demo tape had been "pretty lousy" and "very badly balanced" and contained "not very good songs" by "a rather raw group," Martin has recalled, "I wanted something, and I thought they were interesting enough to bring down for a test." You know what happened next: He was won over by their Liverpudlian charm. "I liked them as people apart from anything else, and I was convinced that we had the makings of a hit group," he told British music magazine Melody Maker in 1971. "But I didn't know what to do with them in terms of material."
He first auditioned The Beatles in 1962, after they had been turned down by Decca Records and most of the major British labels. Although his initial reaction was that "they were pretty awful", Martin signed them to a recording contract. This marked the beginning of a long relationship, in which Martin's musical expertise helped fill the gap between The Beatles' raw talent and the sound they wanted to achieve. Most of the orchestral arrangements and instrumentation (as well as frequent keyboard parts on the early records) on Beatles records were made or performed by Martin, in collaboration with the band. (A good example of this was on
Penny Lane
, where Martin worked with McCartney on a piccolo trumpet solo: McCartney hummed the melody, and Martin wrote it down in music notation for the classically trained trumpeter.)
Lennon was particularly impressed that Martin had recorded Spike Milligan and Peter Sellers from BBC Radio's
The Goon Show
. "The Beatles instantly developed a rapport with George Martin," Peter Brown, former director of the Beatles' management company, writes in
The Love You Make
. Martin told them they needed to lose then-drummer Pete Best, and they did. Though only 14 years older than Ringo Starr, the oldest Beatle, Martin was light-years ahead of them in technical sophistication. "The various magic tricks that Martin could perform in the control room," Brown writes, "made him seem like the Wizard of Oz behind his control panel."
In the beginning, Martin was tough on the group. "As composers, they didn't rate. They hadn't shown me that they could write anything at all," he told Melody Maker. "
Love Me Do
I thought was pretty poor, but it was the best we could do." Martin saw the kernel of something, but even he had no clue just what kind of phenomenon he was about to help unleash. "The question of them being deep minds or great new images didn't occur to me -- or to anybody, or to them, I should think."
When they laid down
Please Please Me
in February 1963, Martin told them they'd recorded their first No. 1. He quickly resolved to make a Beatles album, which he produced in a one-day session. "There can scarcely have been 585 more productive minutes in the history of recorded music," Lewisohn writes. Known as a producer of live stage recordings, Martin tried to capture the manic excitement of a Beatles performance, even briefly considering taping at the Cavern Club. He got what he was looking for, particularly in Lennon's larynx-gnashing finale,
Twist and Shout
.
In March, Martin was proved right;
Please Please Me
hit No. 1 on several lists. That year Martin would go on to spend an incredible 37 weeks at No. 1 as producer of the Beatles and other acts, including Gerry and the Pacemakers and Billy J. Kramer and the Dakotas. By June, Parlophone was dominating the British pop charts, just 12 months after the Beatles auditioned.
In September, Lennon and McCartney played Martin a song they'd recently written in a hotel room. Martin suggested they bring the catchy chorus -- "She loves you, yeah, yeah, yeah" -- up to the front of the song. "In
She Loves You
George Martin had been able to incorporate in magic proportions all the ingredients of the three previous singles into one ineluctably attractive song," Brown writes. "
She Loves You
didn't climb the charts, it exploded with a fury into the No. 1 position, selling faster and harder than any single ever released." It became the band's first million seller.
For the next few years, Martin and the Beatles worked nonstop, churning out hit after hit. Unhappy with his EMI salary, he formed his own production company called AIR (Associated Independent Recording) in 1964 with producers Ron Richards, John Burgess and Peter Sullivan. Though under contract to make records for EMI, the Beatles continued to be produced by Martin. In the late '60s, he oversaw the design and construction of AIR Studios in London, which became one of the most successful studios in the world.
By 1965,
Rubber Soul
had gone far beyond the early live-performance albums. Rhythm, vocal and instrumental tracks were carefully layered over several weeks. The process, not to mention the music, altered the direction of rock. Martin was also bringing in more session players, changing the Beatles' sound to reflect their leap in craftsmanship. Inspired by American film composer Bernard Herrman's score for
Fahrenheit 451,
he composed a beautifully understated string accompaniment for
Eleanor Rigby.
(To hear just how understated, compare the song with Phil Spector's gaudy orchestration of
The Long and Winding Road
on
Let It Be
, which horrified Martin and McCartney.)
Beatles embarked on the first session for their
Revolver
album. They began recording the hypnotic, apocalyptic
Tomorrow Never Knows
,a new John Lennon song that was unlike anything the band had ever attempted. Lennon's lyrics were inspired by the
Tibetan Book of the Dead
: "Turn off your mind, relax and float downstream / It is not dying / It is not dying." He wanted his voice to sound like the Dalai Lama singing from a high mountaintop with 4,000 monks chanting in the background. To achieve the dizzying, oracular effect, they ran Lennon's vocals through a rotating Leslie speaker (normally attached to a Hammond organ); the saturated sounds of tape loops turned guitar notes into shrieking gulls.
The man who organized and thrived on all this madness was producer George Martin, whose relationship with the Beatles, always integral, was now entering uncharted territory. The aptly titled
Tomorrow Never Knows
closes the masterpiece
Revolver
with a tantalizing hint of the artistic statement Martin would help them realize next:
Sgt. Pepper's Lonely Hearts Club Band.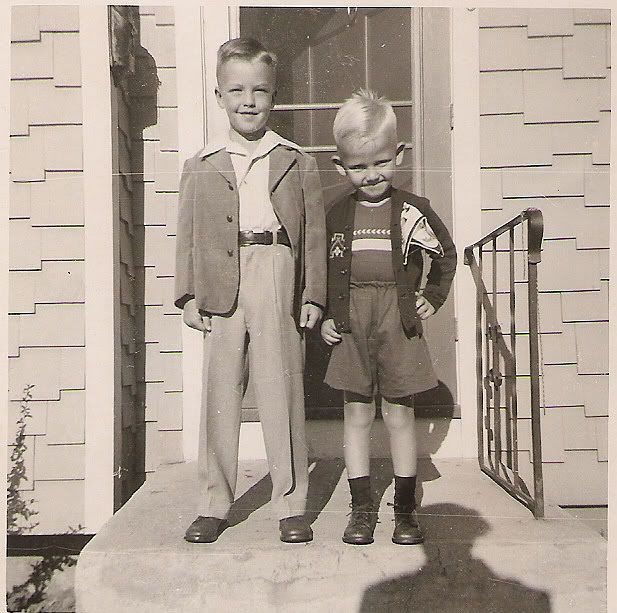 George Martin and his younger brother, David.
"It would be wrong to assume that the Beatles alone were responsible for this remarkable recording, or for the progressiveness which would be the hallmark of much of their future output," Mark Lewisohn says of the song in
The Beatles' Recording Sessions
, a day-by-day account of the group's entire career that is definitive and required reading for serious fans. "George Martin was, as ever, a vital ingredient in the process, always innovative himself, a tireless seeker of new sounds and willing translator of the Beatles' frequently vague requirements."
But it was
Strawberry Fields Forever
that put Martin's ingenuity to its most crucial test. Written by Lennon while he was in Spain making a Richard Lester film called
How I Won the War
, two versions of the song had emerged in the studio. One was a heavy amalgam of psychedelia inspired by the San Francisco music scene, the other softer and more traditionally Beatlesque, with trumpets and cellos. Lennon ended up liking the beginning of the first version and the ending of the second. Problem was, they were at different speeds and a semitone apart in key. Martin eventually solved this conundrum by speeding up one and slowing down the other, splicing the halves together into a seamless whole. With
Strawberry Fields
, "George showed us once and for all that the recording studio itself was a musical instrument," producer Tony Visconti recently told Billboard. "This track was the dividing line of those who recorded more or less live and those who wanted to take recorded music to the extremes of creativity." The
Sgt. Pepper
sessions had begun.
Inspired by a circus poster he'd found in an antique shop, Lennon wrote
Being for the Benefit of Mr. Kite
, telling Martin he wanted to smell the sawdust in the ring. The producer obliged him, procuring sounds of old Victorian steam organs. He put them all on one tape, had it cut into 15-inch sections, had the pieces thrown into the air and joined back together as one; some were backward and some were forward. The unusual sounds permeate the background. To get the song's wildly atmospheric whooshing effects, Martin next played chromatic runs on a Hammond organ at half-speed, the same trick employed for
In My Life
. "I was quite pleased with that," Martin told Melody Maker. "It was a sound picture thing, and I was doing really what I'd been doing with Peter Sellers."
The real circus came in the form of one legendary session for
A Day in the Life
. With 24 bars to fill between Lennon's verses ("I read the news today") and McCartney's middle eight ("Woke up, fell out of bed"), the duo suggested "a tremendous shriek, starting out quietly and finishing up with a tremendous noise." Martin booked a 41-piece orchestra and scored chaos for it to play. He began each instrument at its lowest note and, at the end of the 24 bars, had it hit its highest note related to an E chord. Martin told the musicians to do whatever it took to get from point A to point B. A gaggle of celebrities was on hand, including Mick Jagger, Marianne Faithfull, Donovan Leitch and Mike Nesmith. McCartney brought in funny hats and fake noses, "and I distributed them among the orchestra. I wore a Cyrano de Bergerac nose myself," Martin told Melody Maker. "Eric Gruneberg, who's a great fiddle player, selected a gorilla's paw for his bow hand, which was lovely. It was great fun."
Pepper
was released in 1967. Four years had intervened between the Beatles' first, nine-and-three-quarters-hours album session for
Please Please Me
and
Sgt. Pepper
, which clocked in at 700 hours. From that collaborative peak, the Beatles began slowly going their separate ways; though Martin's role didn't change fundamentally, everyone was having less fun. During the White Album (
The Beatles
) sessions, Lennon and McCartney isolated themselves from each other; all four Beatles were rarely in the studio for recording together, a process much the reverse of their earliest days.
By the time the Beatles got around to
Get Back
, a literal attempt to go back to their rock 'n' roll roots (later retitled
Let It Be
), they were a mess, as evidenced by the 1970 film of the sessions, whose lone highlight is the famous rooftop set. The sessions were shelved, to be later reproduced by Spector, who for all his wall-of-sound artistry couldn't do much to salvage the tracks. The band then decided to let Martin do some actual producing, and they were graced with a suitable finale in
Abbey Road
.
With the exception of Phil Spector's syrupy post-production on the
Let It Be
album, Martin produced every Beatles recording -- from the first single (
Love Me Do
) to the last album (
Abbey Road
). Manager
Brian Epstein
, their most fervid salesman, may have given the scruffy Liverpudlians an initial gloss, but Martin gave them real artistic polish. He supervised the band's transition from precocious boys to mature artists, harnessing all that wild genius into the most efficient and dazzling hit-making unit in modern pop.
In all he produced more than 700 recordings in a career spanning 50 years and genres as diverse as jazz, rock, classical, comedy and film soundtracks, with an unprecedented 30 No. 1 Beatles and post-Beatles hits to his credit in the U.K. Now known as Sir George, Martin may be the most influential and prolific record producer in history.
In the '70s and '80s, Martin produced albums by the Mahavishnu Orchestra, America (seven albums), Jeff Beck (two), Neil Sedaka, Jimmy Webb, Cheap Trick, Kenny Rogers and Paul McCartney (
Tug of War
and
Pipes of Peace
). One of the best of these, Jeff Beck's
Blow by Blow
, was an artistic success and a bestseller that hit No. 4 in 1975. Martin opened an AIR Studios in Montserrat in 1979; it was destroyed when a hurricane ravaged the Caribbean island in 1989. In the mid-'90s, Martin returned to the vaults and to his familiar role, unearthing and preparing previously unreleased Beatles tracks for the three-volume
Anthology
series. The first volume entered the U.S. album chart in December 1995 at No. 1.
Martin's distinctive arranging work on Beatles recordings appears in
Eleanor Rigby
, for which he scored and conducted a strings-only accompaniment (inspired by Bernard Herrmann's music for Psycho),
Strawberry Fields Forever
, where he turned two very different takes into a single master through careful use of vari-speed and editing,
I Am the Walrus
, a quirky and original arrangement (for brass, violins, cellos and choir) effectively complementing the surreal imagery of the song's lyrics, playing a sped-up Baroque piano solo on
In My Life
, and the orchestral 'windup' appearing in
A Day In The Life
. He also contributed less praised but integral parts to other songs, including the piano in
Lovely Rita
, the circus instrumentation in
Being for the Benefit of Mr. Kite
, and the orchestration in
Good Night
.
Within the recording industry, Martin is noted for going independent at a time when many producers were still salaried staff A+R men — which he was until The Beatles' success gave him the leverage to start, in 1969, Associated Independent Recording (and hire out his own services to those artists that requested him). This arrangement not only demonstrated how important Martin's talents were considered to be by his artists, but also allowed him to take part in the share of record royalties on his hits. Today, Martin's AIR Studios remains one of the world's preeminent recording studios. Many Academy Award–winning films and Grammy-winning songs have been recorded at AIR.
Aside from his work with The Beatles (both group and solo projects), Martin has also produced recordings for many other artists, including the band America and country singer Kenny Rogers.
His input at the time consisted of crafting song structures, organizing beginnings and endings, harmonies and solos. He suggested a string quartet for McCartney's
Yesterday
, then a radical idea for a rock group, and contributed the occasional harmonium, organ or piano part, including the Elizabethan-style solo on
In My Life
, which was cleverly sped up to achieve a quick, bright precision. He also wrote the orchestral scores for the Beatles movies
A Hard Day's Night
and
Help!
(and, later,
Yellow Submarine
and, with McCartney,
The Family Way
and
Live and Let Die
, for which Paul McCartney wrote and sang the title song). His role as Beatles producer, which had long since eclipsed all his other work, was about to gain a new complexity, thanks to new studio technologies (including four-tracking) and the Beatles' desire to quit touring and devote themselves entirely to studio recording.
In 1979, he published a memoir,
All You Need is Ears
(co-written with Jeremy Hornsby), that both detailed his work with The Beatles and other artists (including Peter Sellers, Sophia Loren, Shirley Bassey, Flanders and Swann, Matt Monro, and Dudley Moore), and gave an informal introduction to the art and science of sound recording. In 1993 Martin published
With A Little Help From My Friends: The Making of Sgt. Pepper
(published in UK as
Summer of Love: The Making of Sgt Pepper
, co-authored with William Pearson). Sir George also edited a 1983 book called
Making Music: The Guide to Writing, Performing and Recording
.
Martin oversaw post-production on
The Beatles Anthology
in 1994 and 1995, but stepped down when it came to producing the two new singles to be included (reuniting McCartney, Harrison and Starr, to overdub two old Lennon demos). Martin had suffered a hearing loss, and left the work to writer/producer Jeff Lynne of ELO fame.
Martin recently offered this appraisal of his job: "The producer is the person who shapes the sound. If you have a talent to work with -- a singer together with a song -- the producer's job is to say, right, you need to put a frame around this, it needs a rhythm section to do this or that and so on," he told the Irish Times in 1999. "He actually decides what the thing should sound like, and then shapes it in the studio. He may also be an arranger, in which case he may write the necessary parts ... he shapes the whole lot. It's like being the director of a firm."
He was knighted in 1996, and received a Lifetime Achievement Award at the Grammys the same year. A year later, Martin produced his 30th No. 1 hit in the U.K., Elton John's
Candle in the Wind 1997
, a charity single recorded after Princess Diana's death that became the bestselling single of all time and, in Martin's words, "probably my last single. It's not a bad one to go out on." The same year, in response to the second of two volcano eruptions since 1995 that had further devastated Montserrat, Martin put on a benefit concert for the island with McCartney, Eric Clapton, Elton John and Sting.
After five decades in the music industry, Martin bowed out of record production in 1999 with
In My Life
, a collection of Beatles songs recorded by comedians like Robin Williams and Jim Carrey and musicians such as Jeff Beck and Phil Collins. (Beck's version of
A Day in the Life
was nominated for a Grammy award in the best pop instrumental performance category.)
Martin is still with his wife of more than 30 years, Judy Lockhart-Smith, his former Parlophone secretary. One of his four children, Giles, has also entered the business. In an interview on the promotional site for
In My Life
, Martin made him sound like a chip off the old block: "You've got to get on with people and you've got to lull them into a kind of sense of security and you've got to get rid of their fears, you've got to relate to people, and he certainly can do that."
Martin may not be producing records, but he isn't exactly retiring; he still oversees AIR Studios, and last year he became chairman of the advisory board of
www.Garageband.com
, a new Internet music initiative designed to seek out new talent outside the confines of the corporate record industry. The Beatles were inducted into the Rock and Roll Hall of Fame in 1988; Martin finally made it in 1999, alongside Sir Paul McCartney.
In not only chancing his career on the Beatles -- then "an industry joke" as Martin has put it -- but also giving a voice to their every musical whim, Martin has rightfully been referred to as the fifth Beatle. Martin blends giddy enthusiasm with cool intelligence and eloquence. His contributions to Beatles lore are intriguing and articulate; in documentaries such as
The Compleat Beatles
and throughout the marathon
Beatles Anthology
, he is mesmerizing when he leans over his mixer and calls forth individual tracks, be they orchestral swells or lone, spine-tingling vocals. He had the front-row seat.
Martin brought his lecture tour,
The Making of Sgt. Pepper
, to New York's Town Hall in 1999. Each time he introduced a song, from
Penny Lane
through to
A Day in the Life
, there was a round of applause, and Martin would say, "Yes, that's a great one," or "Really marvelous, isn't it?" -- as if, all these years later, he was as truly amazed as all of us have always been. At one point, after he'd given an introduction to
Strawberry Fields
, a frenzied audience member shouted "Amen!" Martin replied, "Amen." Walking out into Times Square on a cold winter night, I marveled at how it had been exactly 35 years and 10 blocks from this spot that Sir George's boys blew down the doors and called in the invasion from Ed Sullivan's stage. "They say if you can remember the '60s, you weren't there. Well, I was there," Martin had assured his audience. Some of the audience had been there too, but even the younger ones knew exactly what he meant when he said, "It all happened so quickly, that flowering of genius so long ago."
Martin was named the British Phonographic Industry's "Man of the Year" for 1998.
Sir George Martin was inducted into the Rock and Roll Hall of Fame in 1999.
In 2001 he released
Produced By George Martin: 50 Years In Recording
, a 6-CD retrospective of his entire studio career.
In 2002, Martin launched
Playback
, his limited-edition illustrated autobiography.
Sir George has also been honored with a Gold Medal for Services to the Arts from the CISAC (the World Federation of Authors and Composers) and the Lifetime Achievement Award for Services to Film at Belgium's Flanders Film Festival.
2006 saw the Las Vegas launch of
LOVE
, a Cirque du Soleil spectacular set to 90 minutes of Beatles music, remixed by Sir George Martin and his son Giles Martin (a notable producer in his own right). The soundtrack to the Beatles
LOVE
by Cirque du Soleil won two Grammy Awards in the categories of Best Compilation Soundtrack Album for Motion Picture, Television or other Visual Medium and Best Surround Sound Album at the 50th Annual Grammy Awards Sunday, Feb. 10th, 2008. Ringo Starr, Sir George Martin, The Beatles legendary producer, and his son, Music Producer Giles Martin, accepted the award for Best Compilation Soundtrack.
Sources:
www.basicfamouspeople.com/index.php?aid=6043
www.sirgeorgemartin.com/
More information may be found at:
www.vh1.com/artists/az/martin_george/bio.jhtml