Post by yerblues1968 on Apr 30, 2008 23:14:33 GMT -5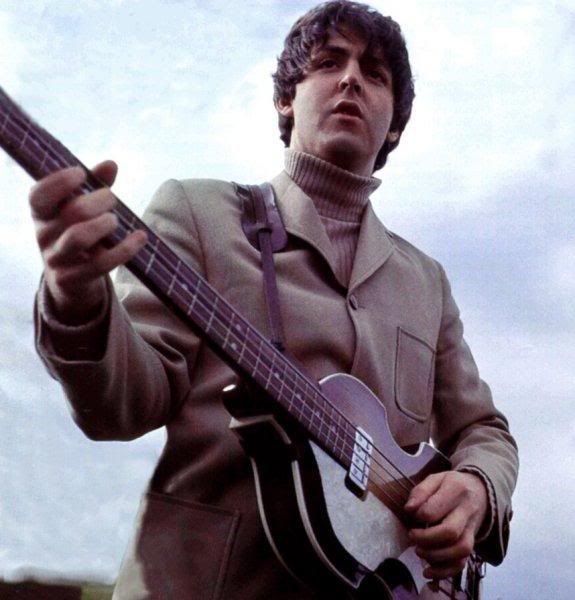 ROCK AND ROLL HALL OF FAME
Paul McCartney
Induction Year: 1999
Induction Category: Performer
Inductee: Paul McCartney (vocals, bass, guitar, keyboards, drums; born 6/18/42)
Paul McCartney was the first of the Beatles to work on an extracurricular recording project (the soundtrack to the 1966 film The Family Way) and also the first to release a bonafide solo album of songs (McCartney, which appeared as the Beatles were dissolving in 1970). McCartney has been the most prolific ex-Beatle and has also enjoyed the greatest measure of commercial success.
Between his work with the Beatles and as a solo artist and leader of Wings, McCartney has written or cowritten more than 50 Top Ten singles. With and without Wings, McCartney has been extremely prolific, averaging an album a year since the appearance of McCartney. Moreover, he's been eclectic as well, not only recording pop and rock but also dabbling in various classical forms and ambient dance music. In the post-Beatles era McCartney has cracked the Top Forty 35 times. When combined with the Beatles' 49 Top Forty U.S. singles, it is a matter of statistical fact that Paul McCartney is the most successful pop-music composer ever and the second greatest hitmaker, behind Elvis Presley. Without question he is one of the most important musicians of the 20th century.
Beyond the numerical achievements, McCartney's career is noteworthy for the purposeful way in which he demystified himself as a rock star in the wake of the Beatles. During the Seventies-a decade of ego-tripping superstars, flamboyant glam-rockers and defiant punk-rockers-McCartney modestly presented himself to the world as a family man who happened to be a working musician. His songs often celebrated the mundane pleasures of everyday life. As a songwriter who delights in the quotidian, as opposed to edgier rock and rollers steeped in mystique and risk-taking, McCartney has rarely been a favorite of rock critics. However, his body of work-some of it admittedly lightweight, much of it unjustly dismissed-has given boundless pleasure to the music-loving public. Having been the primary melodist within the Beatles, it is not surprising that McCartney's knack for an ear-catching pop tune remained very much in evidence.
McCartney's low-key solo debut belied the turmoil that attended the simultaneous breakup of the Beatles. Recorded on a four-track machine, this collection of simple songs and fragments found him playing keyboards, guitar, bass and drums. A one-man show that added up to an evocation of (in his own words) "home, family, love," McCartney anticipated the singer-songwriter movement that would fill the early-Seventies void after the chaos and clamor of the Sixties. McCartney appeared in April 1970, two weeks before Let It Be, the Beatles' last studio release. A year later came Ram, credited to Paul and Linda McCartney. (The couple were married in March 1969; it was the second marriage for Linda.) Ram became a favorite with FM rock deejays and even yielded a #1 single, the whimsical, ambitious "Uncle Albert/Admiral Halsey."
For the rest of the decade, save for the odd solo single, McCartney devoted his creative energies to Wings. Under the banner of Wings, McCartney worked with Linda (who played keyboards and sang) and a fairly stable lineup of musicians. Technically, Wings were an entity longer than the Beatles, though there occurred several personnel changes between their formation in 1971 and disbanding ten years later. McCartney clearly intended Wings to be perceived as a band, and he willingly submerged his identity within the group framework, especially on Wings' much-maligned 1971 debut, Wild Life. Their best recording-it was, in fact, attributed to Paul McCartney and Wings-was Band On the Run (1973). Recorded in Africa by the McCartneys and singer/guitarist Denny Laine (formerly of the Moody Blues), it struck many as McCartney's attempt to deflect criticism that his post-Beatles' work lacked substance. The album and its three Top Ten hits-"Jet," "Band on the Run" and "Helen Wheels"-were catchy, energetic and fun, much like the best of the Beatles.
With the addition of guitarist Jimmy McCullough and drummer Joe English, Wings expanded to a five-piece band for Venus and Mars. preserved on Wings Over America, was a major rock and roll event. Commercially, McCartney had his finger on the pulse of the Seventies. Five consecutive Wings albums-Red Rose Speedway, Band on the Run, Venus and Mars, Wings at the Speed of Sound and Wings Over America (a triple live album)-topped the album charts. At the height of punk-rock in 1977, McCartney must be considered one of the most influential musicians of the 20th century. Wings' sentimental tribute to hearth and home, "Mull of Kintyre," became the best-selling single in British history. So popular were Wings that in 1978 the group could fill a 13-track best-of, Wings Greatest, with nothing but hits. In 1979, Wings switched labels, from Capitol to Columbia, and released their last album, Back to the Egg. The group officially disbanded in April 1981.
McCartney resumed his solo career with 1980's McCartney II. He followed it with Tug of War (1982), which reunited him with Beatles producer George Martin and was regarded as his strongest outing since Band On the Run. McCartney duetted with Stevie Wonder on Tug of War's "Ebony and Ivory" and sang with Michael Jackson on "The Girl Is Mine," which appeared on the latter's Thriller; both songs went to #1. Another duet with Jackson, "Say Say Say," turned up on McCartney's Pipes of Peace (1983). Give My Regards to Broad Street, a feature film and accompanying soundtrack, released in 1984, included his reworkings of several Beatles songs.
The McCartney catalog has swelled since the mid-Eighties as he's tackled an eclectic assortment of projects. These include a solid run of solo albums (Press to Play, Flowers in the Dirt, Off the Ground), live albums from two world tours (Tripping the Live Fantastic and Paul Is Live), an acoustic session for MTV (Unplugged: The Official Bootleg), an album of vintage rock and roll covers (Choba B CCCP, initially released only in the Soviet Union), and a pair of electronic "rave" albums issued under the alias "The Fireman." McCartney also explored classical forms with his Liverpool Oratorio (1991), written with conductor Carl Davis, and the orchestral piece Standing Stone (1997), composed in celebration of the 100th anniversary of EMI, his record label. Also in 1997 came Flaming Pie, a modest masterpiece that nodded to the past while reaffirming his skills as a pop craftsman. McCartney claimed to have been inspired by his involvement in the Beatles' Anthology, the 1995 TV miniseries and three-volume retrospective of the Fab Four's recorded work: "The Anthology was very good for me because it reminded me of the Beatles' standards and the standards that we reached with the songs," he said.
Another project close to his heart was Wide Prairie, an album of songs by his late wife, Linda McCartney. Highly regarded in her own right as a photographer, animal rights activist and vegetarian cook-not to mention wife, mother and inseparable companion-Linda died of breast cancer in 1998. McCartney returned to his rock and roll roots for the 1999 album Run Devil Run, whose 15 tracks were cut in only one week-much like the Beatles had worked back in the early days. Erasing any doubts that he'd "gone classical," McCartney asserted, "I still love my rock and roll."
TIMELINE
June 18, 1942: James Paul McCartney is born in Liverpool, England.
July 6, 1957: John Lennon meets Paul McCartney at the Woolton Parish Church in Liverpool during a performance by John's group the Quarrymen. Impressed by Paul's ability to tune a guitar and by his knowledge of song lyrics, John asks him to join the group.
October 18, 1957: Paul McCartney makes his debut with the Quarrymen, a skiffle group founded by John Lennon.
February 1, 1958: Paul McCartney introduces George Harrison to the Quarrymen at a basement teen club called the Morgue. George joins the group.
August 1, 1960: The Beatles make their debut in Hamburg, West Germany, with Stu Sutcliffe on bass and Pete Best on drums.
August 17, 1960: A quartet comprising John Lennon, Paul McCartney, George Harrison and Pete Best (later replaced by Ringo Starr) performs as "the Beatles" for the first time in Hamburg, Germany.
January 1, 1961: The Beatles make their debut at the Cavern Club in Liverpool.
November 1, 1961: Local record store manager Brian Epstein is introduced to the Beatles. He soon signs a contract to manage them.
April 10, 1962: Stu Sutcliffe dies of a brain hemorrhage.
June 1, 1962: The Beatles audition for George Martin at Parlophone/EMI Records. He agrees to sign the group, but insists that Pete Best be replaced. Within months, Richard "Ringo" Starkey joins the group.
September 4-11, 1962: The Beatles record their first sessions at EMI Studios in London, with George Martin as producer.
February 11, 1964: The Beatles begin their first U.S. tour at the Coliseum in Washington, D.C.
1964: Peter and Gordon reach Number One in the U.S. with "World Without Love," a song written by Paul McCartney, but never recorded by the Beatles.
July 6, 1964: The world premiere of The Beatles' 'A Hard Day's Night' takes place in London.
August 15, 1965: The Beatles play in front of almost 60,000 fans at Shea Stadium in New York City.
October 26, 1965: The Beatles are awarded England's prestigious MBE (Members of the Order of the British Empire). John comments, "I thought you had to drive tanks and win wars to get the MBE."
August 29, 1966: After their concert at San Francisco's Candlestick Park, the Beatles declare this to be their final concert tour.
June 1, 1967: 'Sgt. Pepper's Lonely Hearts Club Band' is released in Britain.
May 1, 1968: Apple Corps, Ltd. begins operating in London. It is the Beatles' attempt to take control of their own creative and economic destiny. Later that month, John invites Yoko to his house in Weybridge. They make experimental tapes all night.
January 30, 1969: The Beatles make their last performance as a group on the roof of the Apple building during the filming of 'Let It Be'.
March 12, 1969: Paul McCartney and Linda Eastman are married in London.
October 12, 1969: Commencing with a call to a Detroit disk jockey, rumors that Paul McCartney is dead begin circulating. These based on a number of apparently planted "clues" divined from Beatle lyrics and album covers. The "Paul is dead" hoax is laid to rest when Paul McCartney emerges from seclusion in Scotland, announcing that "rumors of my death are greatly exaggerated."
April 9, 1970: Paul McCartney announces his "break with the Beatles" in a typed statement enclosed in copies of the solo album McCartney sent to the British press. Paul McCartney attributes the split to "personal differences, musical differences, business differences, but most of all because I have a better time with my family."
April 10, 1970: Paul McCartney announces that he is leaving the Beatles due to "personal, business and musical differences."
April 17, 1970: 'McCartney' on which the ex-Beatle played all the parts, is released.
August 3, 1971: Paul McCartney unveils his new band, Wings, comprising Paul McCartney and Linda with Denny Laine (guitar) and Denny Seiwell (drums). Though there will be personnel changes, Paul McCartney and Linda remain loyal to the Wings rubric for the next ten years. Albums released during the Wings era: Wild Life (1971), Red Rose Speedway (1973), Band on the Run (1973), Venus and Mars (1975), Wings at the Speed of Sound (1976), Wings Over America (1976), London Town (1978), Wings Greatest (1978) and Back to the Egg (1979).
April 13, 1974: 'Band On the Run', credited to Paul McCartney and Wings, hits the top of the U.S. album chart, where it will remain for four weeks.
September 9, 1975: Wings' ambitious world tour, the first such undertaking by a Beatle, kicks off in Britain. It runs for 13 months, ending in October 1976. 'Wings Over America', a three-record set released in December 1976, is culled from U.S. dates on the tour.
April 24, 1976: 'Wings at the Speed of Sound' hits the top of the U.S. album chart, where it will remain for seven weeks.
December 3, 1977: In the thick of the punk-rock blitzkrieg, Paul McCartney tops the U.K. charts for nine weeks with the pastoral waltz "Mull of Kintyre." It surpasses the Beatles' "She Loves You" as the best-selling U.K. single of all time; curiously, it is only a B-side (of the "Girls School" single) in America.
June 1, 1980: 'McCartney II', which is represented as Paul's second solo album—all of the others since 'McCartney' being group projects with Wings—is released.
June 22, 1980: Coming Up (Live at Glasgow) (Paul McCartney & Wings) was a hit.
May 1, 1982: 'Tug of War', which reunites Paul McCartney with Beatles producer George Martin, is released to glowing reviews and strong sales. A duet with Stevie Wonder, "Ebony and Ivory," tops the singles chart for seven weeks.
July 13, 1985: Paul McCartney's performance of "Let It Be" closes the Live Aid benefit concert at Wembley Stadium in Britain.
February 1, 1989: CHOBA B CCCP ("Again in U.S.S.R."), an album of classic rock and roll, is released only in Russia on the state-run Melodiya label. The heavily bootlegged album is legally issued elsewhere in the world, with an additional 14th track, in 1991.
September 28, 1989: Paul McCartney commences a world tour that will run through July 29, 1990. 'Tripping the Live Fantastic', an album of concert highlights that includes many Beatles songs, appears in November 1990.
February 21, 1990: Paul McCartney is given the Lifetime Achievement Award at the Grammy Awards ceremony in Los Angeles.
June 27, 1991: Paul McCartney's 'Liverpool Oratorio' is performed at the Liverpool Cathedral by the Liverpool Orchestra. It is also performed at New York's Carnegie Hall in November, and a recording of Paul McCartney's quasi-autobiographical oratorio appears in December.
February 27, 1993: Off the Ground enters the U.S. chart at #17. A month later, Paul McCartney kicks off another world tour in Perth, Australia. 'Paul Is Live', his third live album, appears in November.
January 19, 1994: Paul McCartney inducts John Lennon into the Rock and Roll Hall of Fame. "I love him to this day and I always did love him," says Paul McCartney.
May 27, 1997: 'Flaming Pie', Paul McCartney's first studio album in four years, is released.
September 23, 1997: 'Standing Stone', Paul McCartney's first symphonic work, is released on the EMI Classics label.
April 17, 1998: Linda McCartney dies of breast cancer at age 56.
March 15, 1999: Paul McCartney is inducted into the Rock and Roll Hall of Fame at the fourteenth annual induction dinner.
October 5, 1999: Paul McCartney releases 'Run Devil Run', a collection of vintage rock and roll covers plus three originals.
Essential Recordings
Band On the Run
Maybe I'm Amazed
Uncle Albert/Admiral Halsey
Tug of War
Jet
Mull of Kintyre
Live and Let Die
Listen to What the Man Said
Silly Love Songs
My Brave Face
www.rockhall.com/inductee/paul-mccartney