Post by yerblues1968 on Apr 30, 2008 23:03:32 GMT -5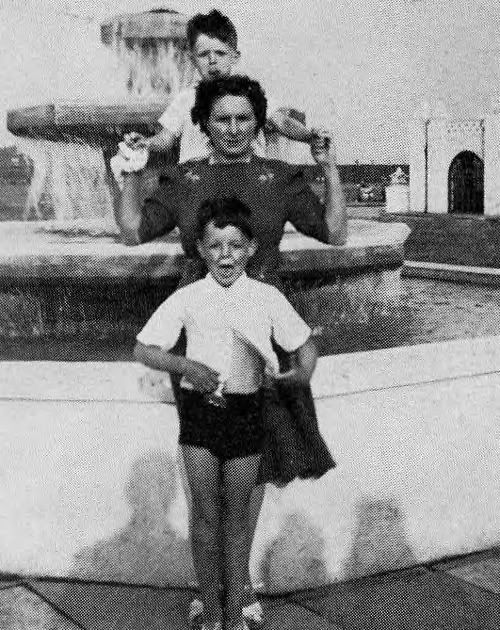 Here is a picture of Paul's mother, Mary, and his younger brother, Michael.
Paul is standing in front of his mother. His brother Michael is behind her.
Paul's younger brother Peter Michael McCartney was born on 7 January 1944 at Walton Hospital, Liverpool, and his first home was in Roach Avenue. He was baptized a Catholic, as was Paul, and he joined his brother at their first school, Stockton Wood Road Infants School. When they moved to Ardwick Avenue in Speke, they shared the same bedroom and began to attend Joseph Williams Primary School in Gateacre.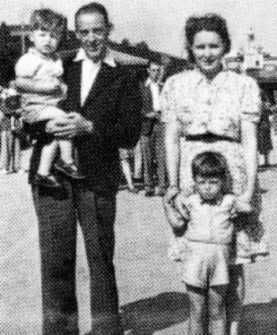 Earlier photos of the McCartney family. James (Jim) McCartney and Mary McCartney, Paul and (Peter) Michael's parents. Jim is holding younger son Michael. Paul is standing in front of his mother Mary. Another family photo of the McCartneys.
Mike attended the Liverpool Institute, but his ambition was to enter Liverpool College of Art.
Unfortunately, new rules made it mandatory for entrants to have five GCE (General Certificate of Education) passes and Mike was turned down. He was accepted for Birkenhead's Laird School of Art, but was unable to obtain a grant from Liverpool Corporation, so at the age of seventeen, he began his first job at Jackson's the Tailors in Ranelagh Street. The following year he began an apprenticeship at Andrew Bernard, a ladies' hairdresser in the same street.
In 1962 he was asked if he'd take part in a sketch at the
Merseyside Arts Festival
with a Post Office engineer, John Gorman, and a young teacher, Roger McGough. Mike agreed, but wanted to use a pseudonym. He suggested the name Michael Blank, and he was so credited in the programme.
The three decided to stick together as a satirical trio, performing songs and sketches, and called themselves the
Scaffold
. In 1963 they were asked to appear regularly on Granada Television's weekly magazine programme
Gazette
, so they all gave up their jobs to become professional members of
Scaffold
. Mike changed his name to Mike McGear as the
Beatles
were now achieving such incredible success that he didn't want to appear as if he were exploiting his family name.
In any event, he was used to pseudonyms as his first published photographs had appeared in
Mersey Beat
under the name Francis Michael.
The
Scaffold
were to prove a tremendous success. In 1968 they were appearing regularly on a BBC satirical show and were also doing live gigs at prestigious venues such as the London Palladium. During the seventies Neil Innes and Viv Stanshafl of the
Bonzo Dog Doo Dab Baud
regularly supplemented the
Scaffold
line-up and Andy Roberts of the
Liverpool Scene
, using the collective name Grirmms.
The
Scaffold
performed their final live gig on the All Fools Show, a charity affair at the Royal Albert Hall on 1 April 1977. There was a further reunion, on Granada Television in 1979 when they teamed up on the programme
What's On
to celebrate the 10th anniversary of their No. 1 hit
Lily The Pink
.
Mike had married Angela Fishwick in 1968 in a country church ceremony in Caerog. North Wales, with Paul as Best Man, accompanied by Jane Asher. The marriage produced three daughters, but began to break down in the late seventies and the couple were divorced in 1979.
After the demise of Scaffold and the collapse of his first marriage, Mike began to write children's books. He then married Rowena Home, a 21-year-old dress designer at St. Barnabas Church in Penny Lane, Liverpool, on 29 May 1982.
Over 600 fans gathered outside the church in the morning and waited for Mike to arrive at 2.30 p.m. and Rowena about ten minutes later. Paul was dressed in casual style with grey jacket, blue trousers and white sneakers, and there were five bridesmaids: Mike's three daughters (Benna, thirteen, Theran, eleven, and Abbi, eight) and Rowena's two sisters.
The Reverend Harrington, who conducted the ceremony, recalled when Paul was a choirboy at the church and commented: 'He used to sit up there in the choir box, making some kind of noise.' After the ceremony the wedding party left the church and headed for Hoylake for the reception. Later Mike and Rowena flew to Malta for their honeymoon.
The Scaffold enjoyed a successful recording career and George Martin produced their first single. It was
2 Days Monday
, issued on 6 May 1966. John Burgess was the producer of their second single
Goodhat Nightman
, issued on 2 December of the same year. They had a big chart hit with
Thank U Very Much
, produced by Tony Palmer and issued on 4 November 1967.
Paul had bought Mike a Nikon camera and when Mike phoned him to thank him for the gift he chanted
Thank you very much
on the phone. After the call the chant stayed in his head and he put it down on tape, then wrote
Thank U Very Much
. Paul attended the recording session at Abbey Road, but told Mike the song was too oblique. When Mike pointed out that the entire song was oblique, Paul said, 'Have it your own way if you know so much'. The song became a spectacular hit and Paul phoned Mike and said, 'You were right. . . I was wrong.
This was followed by
Do You Remember
, produced by Norrie Paramor and issued on 15 March 1968. Their next single
1-2-3
came out on 14 June 1968. Their biggest success, reaching the No. 1 spot in the British charts and proving to be the hit of the Christmas season, was
Lily The Pink
, issued on 18 October 1968. Other singles included
Charity Bubbles, Gin Gan Goolie, All The Way Up, Busdreams, Liverpool Lou, Mummy Won't Be Home For Christmas, Leaving of Liverpool, Wouldn't It Be Funny If You Didn't Have A Nose?
and
How Do You Do?
.
Paul's first involvement with his younger brother's recording career happened in 1968 when he produced the album McGough & McGear, released on 17 May. He didn't produce the
Scaffold's
first album
The Scaffold
, but did produce their hit single
Liverpool Lou
, as well as Mike's solo album
McGear
, for which he wrote
What Do We Really Know?
and
Leave It
and co-wrote with Mike:
Norton, Have You Got Problems?, Rainbow Lady, Simply Love You
and
Givin' Grease A Ride
. He also co-wrote
The Casket
and
The Man Who Found God On The Moon
, this time with Roger McGough.
At Island Records Mike recorded and released the single
Woman
and an album of the same name in 1972. In 1973 Island issued the group Grimms' eponymous album, followed by a
Scaffold
album Fresh Liver and another Grimms LP
Rockin' Duck
. Mike then signed to Warners who issued McGear and Sold Out and a number of his singles.
Mike's popularity engendered an American Mike McCartney Fan Club and a fanzine called Gear Box. In the eighties he issued the series Mike Mac's Black & Whites, a collection of his photographs, which were also presented in a handsome range of postcards and posters.
He began to tour American universities lecturing on his career, Liverpool and the
Beatles
and also completed a video about Liverpool, in addition to furthering his career as a photographer and recording various Liverpool bands — a busy, creative life for a man with such a large family (he and Rowena had three boys, in addition to the three daughters from his previous marriage, who were reared with Mike), who has also penned his autobiography,
Thank U Very Much: Mike McCartney's Family Album
, which was called
The Macs
in America.
Copyright: Bill Harry, from 'The Beatles Encyclopedia', published by Virgin Publications.