Post by yerblues1968 on Feb 28, 2012 3:48:00 GMT -5
Moderator Edit: Due to my past experiences observing what people (usually well-meaning, but not always) have done with Brian's legacy, I now intuitively harbor grave reservations concerning projects such as this one.

I will not automatically endorse this merely because it purports to be a tribute to Brian, nor because it has the luck to premiere at the theatre bearing his name.
I leave it to Jen Heyes, Bill Elms, and especially Andrew Sherlock to prove me wrong. PLEASE.
---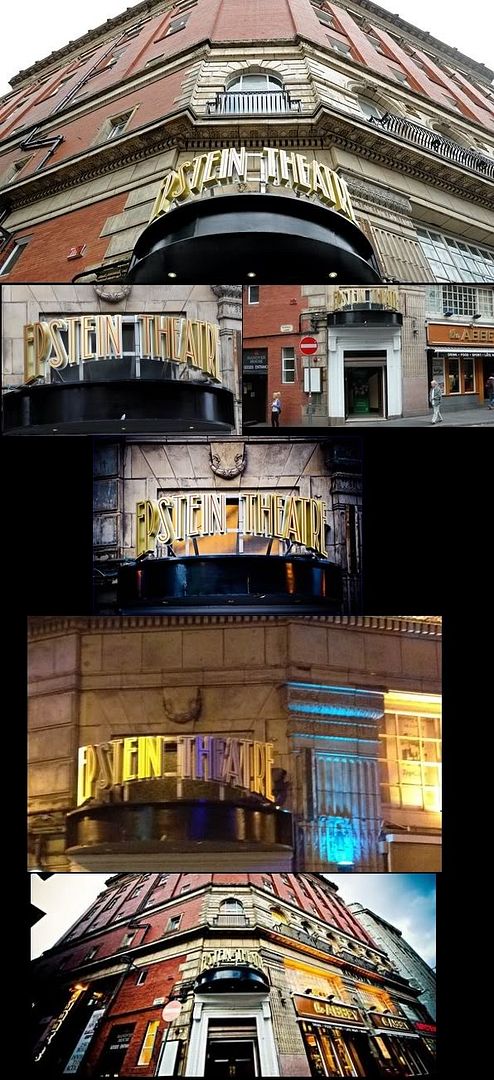 Liverpool's Epstein Theatre ~ image montage
Below is a copy/paste from music-news.com
article dated 27 Feb 2012
EPSTEIN A NEW PLAY ABOUT THE MAN WHO MADE THE BEATLES

A brand new play about one of Liverpool's favourite sons and one of the world's most successful music entrepreneurs is to premiere in Liverpool, in a year that celebrates 50 years since The Beatles came together and will be the first major production at the new Epstein Theatre.

EPSTEIN is a long-awaited theatrical production celebrating the life of former Beatles manager Brian Epstein. It is a one man multi-media play with live music, created by Jen Heyes and Andrew Sherlock, written by Andrew Sherlock, directed by Jen Heyes and runs from 15 November to 1 December 2012.


Portrait by Lewis Morley

Brian Epstein was best known as a music entrepreneur and legendary manager of The Beatles and was the person responsible for their rise to mega-stardom all over the world. He also managed other popular artists such as Gerry & The Pacemakers, Billy J Kramer, The Foremost, The Dakotas and Cilla Black.

Brian Epstein recalled meeting The Beatles: "I hadn't had anything to do with management of pop artists before that day that I went down to the Cavern Club and heard the Beatles playing... I was immediately struck by their music, their beat, and their sense of humour on stage - and even afterwards when I met them I was struck again by their personal charm. And it was there, that really, it all started."

Brian Epstein's short life was crammed with success and controversy; he was an intelligent man whose prescience, taste, vision and passion left a lifelong impact on the world. Born in Liverpool in 1934 to Jewish descent, he spent his early adult years working for the family business NEMS (North End Music Stores) before being drafted into the Royal Army Service Corps, after a brief stint in London joining RADA and living a more openly gay life he returned to Liverpool to manage the new NEMS city centre music store making it one of the biggest in the North. Not long after was the historic lunchtime visit to the famous Cavern Club to hear four Liverpool lads perform and the rest was history. Brian had a passion for classical music and theatre and even leased the Saville Theatre in London. Immense rapid success, busy schedules and constant touring took its toll on Brian and depression and recreational drugs set-in. Brian Epstein died of a sleeping pill overdose in August 1967, he was aged just 32. His death was immediately felt, while the Beatles continued to make magnificent music, their business affairs rapidly crumbled and by 1970 it was all over.

EPSTEIN is brought to you by the newly formed Bill Elms & Jen Heyes Productions Ltd (Tales from Haunted Liverpool, Tales From Charles Dickens), written by Andrew Sherlock (Wall Talks and The Shankly Show) and directed by Jen Heyes (Blood Wedding, I love Vinegar Vera and Wall Talks).

The search is now on to find the finest actor to perform the role of Brian Epstein and auditions will also be held for a musician to perform many of the hits from bands/artists managed by Brian.

EPSTEIN is sponsored by Gregory Abrams Davidson solicitors (Matthew Street and Penny Lane) and generously supported by The Cavern.

The Epstein Theatre
Hanover Street, Liverpool, L1 3DY
Thu 15 November ' Sat 1 December 2012
Preview Performances: 15-17 November 2012
Thu and Sat Matinees: 2.30pm | Mon ' Sat Evenings: 7.30pm
Ticket Prices: £10-£24 (Concessions Available)
Tickets on Sale: Friday 24 February at 9am.
Box Office: 0844 8000 400* Online at http://www.echoarena.com*
SOURCE