Post by christine~ on Jun 8, 2011 22:27:43 GMT -5
'Fifth Beatle' Biopic Secures Funding, Music Rights (Exclusive)
7:00 AM 6/8/2011 by Tim Appelo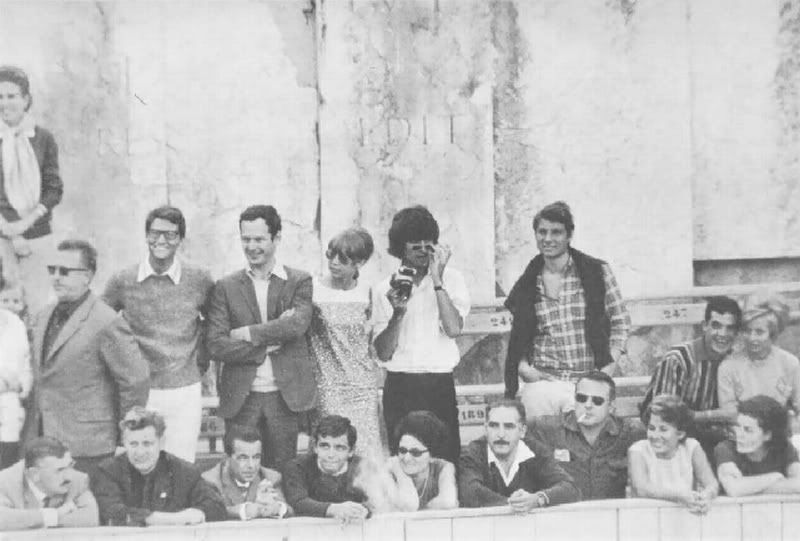 Brian treats George and Pattie Harrison to a bullfight


Broadway producer Vivek Tiwary can use hit Beatles songs
in a $25 million film about manager Brian Epstein;
plus
THR has an exclusive first look at the script


Stage producer Vivek Tiwary (
The Addams Family, American Idiot
) has landed unprecedented rights to Beatles songs for his debut film,
The Fifth Beatle
, about manager Brian Epstein, whom Paul McCartney called the "fifth Beatle."
"I have signed and fully executed a deal with Sony/ATV, who control the Lennon/McCartney music catalog, and I'm proud to report we will have Beatles music in our film," Tiwary told
The Hollywood Reporter
. The Beatles (and the bandmembers' survivors' estates) have not endorsed
The Fifth Beatle
, but a source says reps have signed off on the script and enabled music rights to be used.
"My guess is we'll use six to 10 Beatles songs," Tiwary said. "We have the ironclad rights [or] ability to use the following songs, with the option to 'swap out' later for other songs if we decide to change the list: 'All You Need Is Love,' 'You've Got to Hide Your Love Away,' 'A Day in the Life,' 'Sgt. Pepper's Lonely Hearts Club Band,' 'Yesterday,' 'Eleanor Rigby,' 'Help!' 'You Never Give Me Your Money,' 'Girl,' 'A Hard Day's Night,' 'Strawberry Fields Forever' and 'Come Together'."
Jeff Jones, CEO of Apple Corps, the Beatles' holding company, said, "Apple Corps has no comment on the film other than to say that the film will not include any of the original Beatles master recordings." Fans can hear versions of those recordings in the show
Love
at the Cirque du Soleil in Las Vegas, where McCartney, Yoko Ono, producer George Martin and George Harrison's widow Olivia and son Dhani are slated to appear June 8 for the stage hit's fifth anniversary.
Except for John Lennon's first song "Hello Little Girl," credited to Lennon/McCartney and performed in the 2010 biopic
Nowhere Boy
, films in which the Beatles figure as characters (
Backbeat, The Hours and Times, Two of Us
) have done without Lennon/McCartney songs.
Epstein, a closeted homosexual in the days when it was illegal in the U.K, suffered with his outsider status even as the band he managed because hugely famous. He died of a sedative overdose in 1967, a month after homosexuality was legalized. "It's definitely possible that 'You've Got to Hide Your Love Away' is about Brian," Tiwary said. Beatles expert Tim Riley told
THR
this has been "long speculated, but nothing Lennon ever said nails it down."
"Brian Epstein was a deeply repressed, unhappy guy," said David Browne, whose new book,
Fire and Rain
, details the Beatles' last days. "There's what seemed to be this happy world of the Beatles, and at the core of it this guy grappling with all these demons. The story is ripe to be told. There's still something mysterious about him."
Tiwary has been talking with Tom Kitt, composer of
Next to Normal
, about a stage musical of
The Fifth Beatle
. There is also a plan for a graphic novel from Dark Horse Entertainment. And he's looking for a director (a source said Cameron Crowe and Gus Van Sant have passed). "I would love to start production this year," Tiwary said. "I won't wait two years, but if the right director wanted us to shoot later, we have flexibility in financing." Tiwary said he has a commitment from Nashville's DIMI Entertainment to back the $25 million-budgeted production.
On the next page is an exclusive first look at Vivek Tiwary's
The Fifth Beatle
script, a scene set during Lennon's 1963 trip to Spain with Epstein (dramatized also in
The Hours and Times
).
[shadow=yellow,left,300]~~~
page 2
~~~[/shadow]
A page from the script
JOHN Did you think he was attractive, then?
BRIAN Who?
JOHN The matador. That's why you like bullfighting.
BRIAN I like bullfighting because it's a beautiful, aggressive sport. At his final moment of triumph, the matador becomes death -- he kills the killing machine. But not before he gives the bull its glory; shows the world its beauty, its power, its majesty. He also gives the aficionados something to believe in, something to admire, and ultimately something to hate. So in the end, he gives people hope.
[Brian turns to face the sea before continuing wistfully.]
BRIAN (cont'd) He uplifts the arena, the city, the nation. Very beautiful... So yes, I suppose I do find him attractive, but not in the way you might think.


JOHN What about him, then?

BRIAN No. Too... clumsy.

JOHN What's that got to do with his looks?

BRIAN Everything!

JOHN Hmmh. Well, him then.

[John points at another.]

BRIAN Yes, him, very. Classic features. Elegant face.

JOHN And him? John points at another.

BRIAN Not so much.

JOHN You're mad. He's got all the birds!

BRIAN Women aren't naturally the best arbiters of taste. He's quite ordinary.

JOHN And that one?

[John points at another.]

BRIAN No.

JOHN Well we agree after all.

[John turns to face Brian.]

JOHN (CONT'D) And how about me? Do you find me attractive?

[In a rare moment of weakness, Brian turns to face John.]
BRIAN Yes.

[John looks deeply into Brian's eyes and holds his stare for an uncomfortable amount of time.]

JOHN Well.

[John turns back to face the ocean.]

JOHN (cont'd) It's too bad I'm not queer.

FADE TO BLACK



Click to read at
[shadow=yellow,left,300]Source[/shadow]
The Hollywood Reporter website
.