Post by yerblues1968 on Jan 5, 2011 1:51:23 GMT -5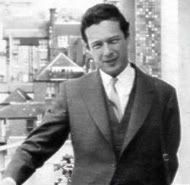 Beatles Manager Brian Epstein
BRIAN EPSTEIN, PETE BEST AND STUART SUTCLIFFE COULD BE HONOURED WITH STREET NAMES BY LIVERPOOL COUNCIL
Liverpool Echo
by Marc Waddington
Jan 4 2011
PLANS to name city streets after ex-Beatles Pete Best and Stuart Sutcliffe were today under discussion.
An application was made to Liverpool council by the New Liverpool Beatles Appreciation Society, which also wants
Brian Epstein
to be honoured in the same way.
The fan club said as well naming streets, the council should award posthumous freedoms of the city to Sutcliffe and
Epstein
.
The council said the street names would have to be given to roads running through new estates, possibly in a housing regeneration area.
This year marks the 30th anniversary of the creation of the original "Beatles Streets" in Kensington, boasting the names of John Lennon, Paul McCartney, George Harrison and Ringo Starr.
Pictured from left to right: John Lennon, George Harrison, Pete Best, Paul McCartney and Stuart Sutcliffe during the early Beatles.
New Liverpool Beatles Appreciation Society spokesman John James Chambers said: "
Epstein
, Sutcliffe and Best are all Beatles icons and made a major contribution. They are all synonymous with The Beatles.
"In Brian Epstein's case, he really was Mr. Liverpool. When [music producer and promoter] Tony Wilson died, he was posthumously given the freedom of Manchester because he was considered to be Mr. Manchester.

"Brian Epstein has never really been officially honoured."
Earlier this year, the council announced it planned to change the name of the Neptune Theatre, in School Lane, to the
Epstein
Theatre before it reopens because he worked there as a youth.
Cllr Malcom Kennedy, cabinet member for regeneration, said a location worthy of bearing the names must be chosen.
He added: "We are currently compiling a list of names we are looking to use in new developments, but it needs to be somewhere appropriate."
He said he believed while both Sutcliffe and
Epstein
died young and Best left the band before they hit the big time, they were still worthy of recognition.
Cllr Kennedy said: "Pete Best was there with them in Hamburg, played on stage with them and was very much part of the formation of The Beatles.
"The same goes for Stuart Sutcliffe and
Brian Epstein
, without whom there would have been no Beatles.
"I am not so keen on the idea of Yoko Ono Street though."
Sutcliffe, 21, died in 1962 in Hamburg of a brain tumour. He had quit The Beatles to live with his photographer lover Astrid Kircherr.
Epstein
, 32, was found dead in 1967 of a drug overdose.
marcwaddington@liverpoolecho.co.uk
www.liverpoolecho.co.uk/liverpool-news/local-news/2011/01/04/brian-epstein-pete-best-and-stuart-sutcliffe-could-be-honoured-with-street-names-by-liverpool-council-100252-27928065/