Post by christine~ on Oct 5, 2009 19:55:42 GMT -5
Thanks to David Haber of BeatlesNews.com for the link to this! ♥
CLICK:


www.beatlesnews.com/
By
E.N. May
on October 4th, 2009
Being labeled as "the fifth Beatle" is a heavy statement. Rarely was anyone able to crack into the group during their career high in the 60's. They were a band so volatile at times that if anyone were to speak to them (let alone offer advice) during a recording session, they were thrown out of the studio. That went for everyone; that is, except for the one man who discovered and built the band, not to mention held it together.
The Beatles, for all their talent, power, and influence, owe a lot to that singular force. Brian Epstein was probably the luckiest manager alive the day he decided to work with them. Back then, the foursome, with original drummer Pete Best, were just another shabby jeans and leather wearing wannabe pop group playing Liverpool's dingy bars. They ate, drank, and cursed onstage, and were a far cry from the well-dressed, well mannered celebrities they were set to become (at least in the beginning). To Epstein's long time friend Alistair Taylor, who was there the night he watched the band play at the Cavern Club, they were a waste of time. Epstein thought differently, however, seeing an opportunity that was undeniable.
"And after a while Brian started talking about it, and he said, 'What did you think?' And I said I thought they were awful, quite honestly, but absolutely incredible. So he said, 'That's exactly my feelings. Do you think I should manage them?' And I said, yeah." - Alistair Taylor
That's how it all started, the tumultuous relationship between Epstein and John Lennon, Paul McCartney, George Harrison, and soon to be drummer Ringo Starr. It would end up becoming a connection so deeply embedded in the personal lives and careers of the five men that McCartney would later be quoted as calling him "the fifth Beatle". Epstein was the only person with the balls to direct these four egos from the beginning and to help re-invent pop music as we know it by the end. When Epstein died suddenly at the age of 32, the glue that held The Beatles together had crumbled, and its toll waged heavy. It was a fast life for the son of an appliance and record store owner, one that is filled with accomplishment, and ripe with controversy.
Born in 1932 to a wealthy family, Epstein was expected take over the family furniture business when he came of age. It seemed easy enough as he got older and proved to be a natural salesman, but his inner desire to become an actor took over. Much to his parent's dismay, he went off to the Royal Academy for Dramatic Arts to train, where he would go on to ace his admissions audition. However, show business dealt a harsh blow, and soon after, Epstein returned to the family calling.
He ended up taking over the adjacent music store that his father had bought, expanding it from selling just instruments (coincidentally where James McCartney, Paul's father, bought his piano) to records as well. This lead right into an interest in the local music scene, and soon enough, that aforementioned fateful night at The Cavern.
Nobody else saw the future in The Beatles that Epstein did. What he saw was the distinct charisma between the members that he knew could be honed and turned into something great. What he also recognized, however, was that some immediate changes needed to be made in order to make it work. Epstein was a crude businessman, and wasn't afraid to take charge of the band. Much to Lennon and Harrison's dismay, the jeans, leather, and bad language were scrapped for suits and smiles. Epstein also knew he needed a new drummer, and so he kicked out Best for Starr. The icing on the cake would be the idea to cordially bow at the end of each performance making their humble demeanor irresistible. After that, and with a little convincing of the label, the record deal the band had been waiting for finally came.
It was those drastic changes and executive decisions that cemented the bands trust in Epstein as a manager. He was always two steps ahead of them, and they needed that to make any hope for a future possible. There were consequences, though, as this foresight would quickly turn overbearing for the band, and build tensions that would only become more and more complicated over the year. The controlling nature of the relationship, however, always came with the best of intentions. The Beatles were Epstein's life. No matter how many other bands he managed to sign later on, they were still his pride and joy. This was evident from the beginning if you look at the original five year contract The Beatles signed back in 1962. Reality is, he never even signed it, citing that he wanted to give the guys a way out in case they changed their mind. Again, putting the band before him.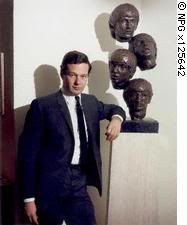 Being such an integral player, Epstein became the rock star behind the scenes, even to the point of taking on the lifestyle. He would influence the music, put on the shows, and even do the drugs, picking up a serious pill habit. During the four months it took to record
Sgt. Pepper's Lonely Hearts Club Band
, Epstein spent most of the time in a pharmaceutical daze. A Carbitral and alcohol cocktail would be his eventual killer in 1967, and it's still debated whether or not it was a suicide.
It wasn't known to most that the man was depressed, and the illness only got worse as the drug use increased, and his inability to be himself ate away at his soul. Epstein's sexuality also played a role in his depression. It is widely known today, but in a time when being gay was not accepted (even illegal), it was impossible to be his true self. This brought him lots of trouble, in both his personal and professional life which further led to his staggering downward spiral.
This plunge would end up taking what he loved most with him. By the late '60s, he had become the only reason The Beatles were still together. Conflict arose in 1966 when the thought of touring came up. The band wanted nothing to do with it (aside from McCartney), but Epstein wanted it more than anything. The fights were bitter, but when Epstein died in the summer of 1967, The Beatles had no reason to keep going. It was all over.
In retrospect, everyone knows Epstein was the sole reason The Beatles became The Beatles, but many forget he was also the tie that bound them throughout that tumultuous decade. This became apparent after his death. Whether McCartney wanted to believe it or not, the band had already spiritually broken up long before Epstein's death, and now with their glue gone, there was no reason left to keep dragging on. It's amazing how one man could have so much power over a band thought to be untouchable in the world of music.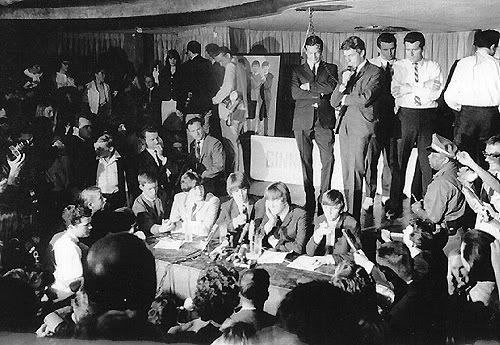 1964 Press Conference in Los Angeles
For years to follow, Epstein would be largely left out of the discussion when people talked about The Beatles, when in reality he was just as necessary as any one of the members. Lennon's first wife Cynthia said it best to The Washington Post: "It's almost as if he's been written out of the story, I don't think they'd gone anywhere without Brian".
Any fan knows what happened next: The manager to follow Epstein would only end up screwing The Beatles over, Phil Spector's arduous production work behind Let It Be would bring the four to their knees (even if it did win them a Grammy), and conflict persisted between Lennon and McCartney. What's the point? The point is, the magic had died with Epstein.
What did Epstein see that night in the tavern? While everyone else was shaking their heads, this young, naive manager saw endless potential — so, what really caught his eye and drove him? Nobody knows. It was simply a gift. He, like no other manager/producer, had the ability to understand a musician, and help them become who they were meant to be… and it all came naturally. At the time, he was just a salesman selling one of the world's greatest products.
The story of Epstein is a complicated one. How he survived as long as he did is amazing, and the meteoric rise of his brainchild set a precedent that has yet to be matched. His life is just as heroic as it is tragic; the rock star that never was.
consequenceofsound.net/2009/10/04/icons-of-rock-brian-epstein/