Post by christine~ on Jul 5, 2009 16:45:05 GMT -5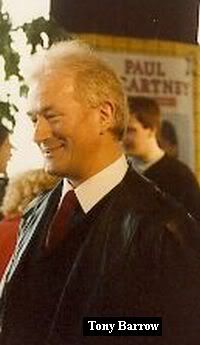 Tony Barrow had left a bad taste in my mouth in 2005 when he spouted off for British TV that Brian had encouraged assistants to pimp prostitutes for The Beatles, and had paid off unwed mothers who had babies fathered by them.
This footage ended up in the sensationalized
The Beatles Biggest Secrets
(Click for my opinion of it from March of 2007).
The old heads like me and the new young Beatle scholars will know better, but Barrow is aiming to "inform" (read: sell more books via shock value) the majority of the general public, who really aren't too educated on our boys. What our dear Mr Tabloid Barrow fails to clarify is that those distasteful things Brian grudgingly allowed or did for his Beatles were
"business as usual" for the bands of that era
. The truth is, he resigned himself to doing these "duties" himself because he was well aware that, if he refused, the boys would go ahead and find someone else to do the dirty work -- and Brian wisely tried to keep everything possible entirely under his control.
Barrow presented his "revelations" in a fashion that seemed to point to Brian as the instigator, and the way the press headlines were worded implies that the prostitutes and payoffs were ideas that Brian thought up -- which, of course, they weren't! But you do realize that many people feel homosexuals have no morals anyway. So his assertions will be accepted as printed.
In my opinion, Barrow's "disclosures" were exposed in a shameful, purely sensational and unnecessary manner purely for his own profit.
By all the review and excerpt snippets I've seen of the book, the boys showed Barrow a completely different face than they showed to longtime pal Bramwell. And until proven to me otherwise, I can understand why they wouldn't trust him with the full truth on anything.
Sometimes I DO like what Barrow says, though:
Epstein's 25 cut of the Beatles' pre-tax income (officially paid to his NEMS Enterprises company) was not uniquely high.

The 50-50 split agreed by Elvis and the Colonel was mirrored when Gordon Mills began to handle Tom Jones, while pioneering UK rock'n'roll manager Larry Parnes sometimes took a similar fee.

Conversely, many managers took no more than 10 of their artists' earnings ~ but they recouped by removing every possible business expense - including the services of top-flight accountants, PR organisations, stylists and musical directors - from the artist's share.

Epstein was much more than the Beatles' booking clerk:

"I act as manager as well as agent. Most acts have one of each - to whom, by the way, they pay separate commissions."

He stressed that NEMS offered the full gamut of showbiz services to its clients:

"We direct and guide and shape careers. We have our own experts. We run our own public relations division. These things cost a fortune if they are done in the right way. One's profits from that 25 are not really as fantastic as people imagine. Critics often forget that we have hefty outgoings just like any other firm."

The fine wines and five-star hotels were merely a necessary signal to his business contacts of his success and clout.

~Tony Barrow