Post by yerblues1968 on Feb 7, 2009 16:39:02 GMT -5
Tony Bramwell pictured with Beatle fans at
The FEST for Beatle Fans in Chicago, Illinois 2005.
THE LAST MAN STANDING IN THE BEATLES INNER CIRCLE
WhatGoesOn.com reporter
by Katie Hickox
Published November 10, 2008
Paul McCartney's publicist Geoff Baker calls Tony Bramwell, "the last man standing" because only Tony, the Beatles former Road Manager, remains alive out of
a small group of Beatles insiders
from Liverpool who helped
Brian Epstein
manage the Beatles from the very beginning. Other Beatles insiders who have tragically passed away include:
Mal Evans
and
Neil Aspinall
who started as roadies in Liverpool to help out their friends the Beatles, Brian's Assistant
Alistair Taylor
who was also known as the Beatles "Mr. Fix-it", and lastly not to be forgotten is
Alf Bicknell
, the Beatles chaffeur from 1964-66 and also worked as a roadie at John's request.
Photo of John Lennon, his wife Cynthia, and manager, Brian Epstein, in background.
The photograph has a faint autograph of Alf Bicknell on the lower right.
Gary James Interview with The Beatles' Chauffeur, Alf Bicknell.
www.classicbands.com/AlfBicknellInterview.html
I recently spoke with Tony briefly about his life with the Beatles. He was also a close friend of all of the Beatles and remains a friend of Paul and Ringo's.
Tony wrote
Magical Mystery Tours: My Life With the Beatles
, a tell all book about his time working with the Beatles first published in April 2005 in hardcover and is now available in paperback.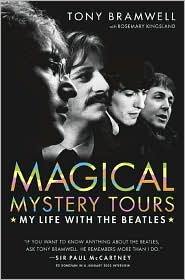 Magical Mystery Tours: My Life With the Beatles
(Bargain Price - Hardcover) is available online.
www.amazon.com/Magical-Mystery-Tours-Life-Beatles/dp/B000JU7MRK/ref=sr_1_1?ie=UTF8&s=books&qid=1226378778&sr=1-1
Magical Mystery Tours: My Life With The Beatles
(Hardcover).
www.amazon.com/Magical-Mystery-Tour-Life-Beatles/dp/1861058845/ref=sr_1_2?ie=UTF8&s=books&qid=1226378778&sr=1-2
Tony is still going strong and has been traveling extensively. He spoke about the just released DVD of the
Technicolor Dream
of an all night happening that featured many new bands and artists at the Alexandra Palace on April 29, 1967. Tony had written about this all night party in his book because he and John had gone to this event at which Yoko's performance caught John's eye when she did a striptease with members of the audience cutting off her clothes on stage with the sound of scissors being amplified. On this DVD, in addition to new early footage of Pink Floyd there is a short clip of "John wandering around stoned" per Tony.
A Technicolor Dream
DVD (2008)
www.amazon.com/Technicolor-Dream-Various-Artists/dp/B001FWRYVK/ref=sr_1_1?ie=UTF8&s=dvd&qid=1226379428&sr=1-1
Tony shared how he accompanied the Beatles to their famous retreat to India in February 1968 but stayed behind at a 5-star hotel in Bombay. He also revealed that he had filmed ALL of the Beatles promotional films but expressed disappointment that he never got any credits including the
Strawberry Fields
and
Hey Jude
videos. He "hopes one day they will all be available on DVD" and that he gets long overdue critical acclaim for filming them. Moreover he filmed the first half of the "Imagine" film and also filmed many of John and Yoko's avant garde film projects like
The Fly
but again never received any credit for his work.
Magical Mystery Tours
has received high acclaim for an insider's account of living and working with the Beatles from the very beginning but has gotten some criticism for his account of Yoko in his book. In response, Tony replies "I have no ax to grind against Yoko...I started writing the book 6 years ago when she came to Liverpool for the opening of the John Lennon airport and was in the news a lot that year...I wanted to let Beatles fans know the real stories about what it was like when Yoko came into John's life and the problems she caused for the Beatles, their fans and the staff at Apple."
Tony is scheduled to appear as a guest speaker at the
2009 Fab Four Festival
in
Nashville, Tennessee
, so be sure to catch him on his next visit to the US!
Editors Note: A previous version of this article incorrectly stated that Pete Shotten was no longer alive. We regret any confusion this may have caused.
www.whatgoeson.com/news/the-beatles/200811101023/the-last-man-standing-in-the-beatles-inner-circle.html