Post by yerblues1968 on Jan 20, 2009 23:23:40 GMT -5
The Beatles only authorized biographer, Hunter Davies
HUNTER DAVIES
(born 7 January 1936)
Hunter Davies is a prolific British author, journalist and broadcaster, perhaps best known for writing the only authorized biography of The Beatles.
EARLY LIFE
He was born in Scotland to Scottish parents and considers himself Scottish, but he was raised in Carlisle, England, between the ages of 4 and 7 when the family moved to Dumfries. They returned to Carlisle when Hunter was 11 and he attended the Creighton School in the city. During this time his father, who was a former RAF pay clerk, developed multiple sclerosis and had to retire on medical grounds from a civil service career.
Davies joined the sixth form at Carlisle Grammar School and was awarded a place at University College, Durham to read for an Honours Degree in History, but after his first year he switched to a general arts course. He gained his first writing experience as a student, contributing to the university newspaper, Palatinate. However after completing his degree course he stayed on at Durham for another year to gain a teaching diploma.
WRITING CAREER
After he left university Davies worked as a journalist and in 1965 he wrote the novel
Here We Go Round the Mulberry Bush
that was quickly made into a film. He raised the idea of a biography of
The Beatles
with Paul McCartney when he met him to discuss the possibility of providing the theme song for the film. McCartney liked the idea of the book and advised him to obtain the approval of Brian Epstein. He agreed to it and the resulting authorized biography was published in 1968.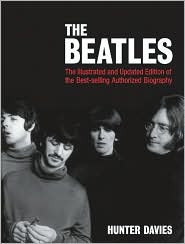 The Beatles
by Hunter Davies (Paperback Updated) may be purchased online.
www.amazon.com/Beatles-Illustrated-Updated-Hunter-Davies/dp/0393328864
In 1972 he wrote what is widely regarded as one of the best ever books about football,
The Glory Game
, a behind the scenes portrait of Tottenham Hotspur. He also wrote a wry column in Punch called
Father's Day
. In 1974 he was sent by the Sunday Times to look at a comprehensive school in action. He wrote three articles and then stayed on at the school – Creighton School in Muswell Hill, North London, now part of Fortismere School – to watch and study through a year in its life. The result was a book, the
Creighton Report
, published in 1976.
Davies has also written a biography of the hill walker Alfred Wainwright, and many works about the topography and history of the Lake District.
In children's literature, he has written the
Ossie, Flossie Teacake
and
Snotty Bumstead
series of novels.
As a ghostwriter, he has worked on the autobiographies of footballers Wayne Rooney, Paul Gascoigne and Dwight Yorke. The Wayne Rooney biography led to a successful libel action in 2008 by David Moyes, the manager of his former club, Everton. Moyes magnanimously donated the awarded six figure damages to the club's charity. He has also ghostwritten politician John Prescott's 2008 autobiography,
Prezza, My Story: Pulling no Punches
.
Davies writes a weekly column on sport for the New Statesman and "Confessions of a Collector" in
The Guardian's Weekend
colour magazine.
CARLISLE UNITED
Hunter Davies is a supporter of the English Football League club Carlisle United F.C., and is Vice President of the Carlisle United Supporters Club London Branch. He writes a football column for the New Statesman magazine which is written in his trademark humorous, irreverent tone. A compilation of these articles was released as a book,
The Fan
, in 2005 by Pomona Press.
PERSONAL LIFE
Davies is married to the writer Margaret Forster and their daughter Caitlin Davies is also an author. He is also a keen collector.
Hunter Davies interview on The Book Show on
Sky Arts, who recently wrote his memoirs in his book,
"The Beatles, Football and Me." (7:47 minutes)
www.youtube.com/watch?v=nKkUJOMQmME
An audience with Hunter Davies. Hunter Davies gives a talk
to the Online Fellwalking Club (O.F.C.) Inaugural Dinner at
Kirkstile Inn, Lake District on September 2, 2006. (9:49 minutes)
www.youtube.com/watch?v=6ubblq4vIwo
SELECTED WORKS
* Here We Go 'Round The Mulberry Bush (1965)
* The Beatles, (1968)
* The Beatles, (1978), McGraw-Hill. ISBN 0-07-015463-5
* The Beatles, (2nd Revised Edition, 1985), McGraw-Hill. ISBN 0-07-015526-7.
* The Creighton Report: A Year in the Life of a Comprehensive School, (1976), Hamish Hamilton. ISBN 0-241-89412-3.
* Come On, Ossie! (1985) illustrator Malou Bonicos. Bodley Head Children's Books: ISBN 0-3703-0895-6.
* Ossie Goes Supersonic (1986) illustrator Malou Bonicos. Bodley Head Children's Books: ISBN 0-3703-1007-1.
* Ossie the Millionaire (1987) illustrator Malou Bonicos. Bodley Head Children's Books: ISBN 0-3703-1111-6.
* Wainwright: The Biography (1995), Michael Joseph. ISBN 0-7181-3909-7
* A Walk Round The Lakes, (2000), Orion. ISBN 0-7528-3390-1.
* The Quarrymen, (2001), Omnibus. ISBN 0-7119-8526-X.
ADDITIONAL BIBLIOGRAPHY
* The Other Half
* The New London Spy
* The Rise and Fall of Jake Sullivan
* I Knew Daisy Smuten
* A Very Loving Couple
* Body Change
* A Walk Along the Wall
* George Stephenson
* William Wordsworth
* The Grades
* Father's Day
* A Walk Along the Tracks
* Great Britain: A Celebration
* Flossie Teacake's Fur Coat
* Snotty Bumstead Collection
* A Walk Around London's Parks
* A Good Guide to the Lakes
* The Joy of Stamps
* Back in the U.S.S.R.
* Beatrix Potter's Lakeland
* My Life in Football
* In Search of Columbus
* Striker
* Hunting People
* The Teller of Tales
* Living on the Lottery
* Born 1900: A Human History of the Twentieth Century - For Everyone Who Was There.
en.wikipedia.org/wiki/Hunter_Davies