HELP!
Jul 12, 2008 19:20:00 GMT -5
Post by yerblues1968 on Jul 12, 2008 19:20:00 GMT -5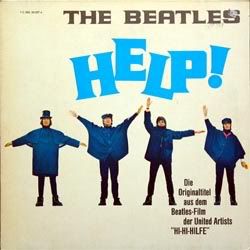 Help!
is a 1965 film starring The Beatles and featuring Leo McKern, Eleanor Bron, Victor Spinetti, John Bluthal, Roy Kinnear and Patrick Cargill. The soundtrack was released as an album, also called
Help!
.
Synopsis
An eastern cult (complete parody of the Thuggee cult) is about to sacrifice a woman to the goddess Kaili. Just as she is about to be killed, however, they notice that she is not wearing the sacrificial ring. It's revealed that Ringo Starr, drummer of the Beatles, has it, sent to him by the victim and her sister, who is also the high priestess of the cult (both of whom are fans of the Beatles), and it's stuck on his finger. Determined to retrieve the ring and sacrifice the woman, the great Swami Clang (McKern), the high priestess Ahme (Bron) and several cult members including Bhuta (Bluthal) leave for London. After several failed attempts to steal the ring without Ringo noticing, they confront him in an Indian restaurant. Ringo learns that if he doesn't return the ring soon, he will become the next sacrifice.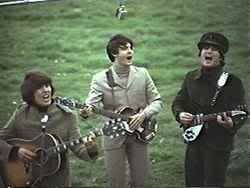 Next, they try a jeweler but the tools he uses all break on the ring. In a desperate effort to remove the ring, the band resorts to the bumbling efforts of a mad scientist, Foot (Spinetti) and his assistant Algernon (Kinnear). His laboratory is full of surplus British made equipment and Foot despises anything British. When his equipment turns out to have no effect on the ring, Foot decides that he, too, must have it. Before he can do anything else, Ahme comes in with a pink Walther P-38 pistol, rescues the group and they return home.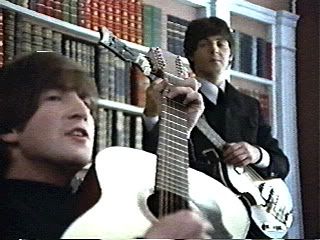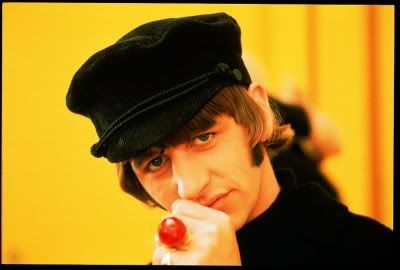 Ahme, now revealed as being on the group's side, tells the group that her sister's time has passed and she is now out of danger. Ringo is now the sacrifice victim. Ahme proposes to inject Ringo with a potion that would shrink his finger and the ring would come off. She tells Ringo to be brave and suggests, to the camera, that if he had been brave; "none of this would have been necessary". As she prepares the injection, the gang starts to pound on the doors. Startled, Ahme drops the needle into Paul's leg and he shrinks. The thugs break into the room and a fight ensues. Ahme flees. Ringo is doused with red paint, thus ruining his best suit and causing him to mock-cry (it is already established in the movie that the victim has to be painted red) and a swordsman approaches. Foot comes in, shoots his Webley and wounds the man. The gang retreats and Foot makes his attempt to take the ring. John starts to swing a lamp at Foot who tries to shoot him. The gun misfires. Blaming this on the fact that the gun is British made (as well as suggesting what he could have done with a Luger), Foot retreats. Paul unshrinks and everyone is left to sort things out.
The band flees to the Austrian Alps for refuge but both thugs and Foot follow in pursuit. Swami skis down a slope that Amhe told him was the way to get to further pursue the Beatles, but turns out to be the finish line of a Cross-Country Ski race. Swami is the winner, and inadvertently gets held up by receiving a gold medal. The group escapes back to England and they ask for "protection" from Scotland Yard; and get it in the form of a cowardly Inspector (Cargill). After being attacked whilst recording in the middle of Salisbury Plain surrounded by the British Army, they hide in Buckingham Palace until they are almost captured by Foot. From there, they run to the Bahamas, followed by Scotland Yard officers, Foot and Clang. After Ringo is nearly captured, the other Beatles pose as him in order to lure the cult members, who are then arrested by the Bahamas Police. Despite their best efforts, Ringo is captured by Foot, who takes him on to a ship intending to cut off his finger to get the ring.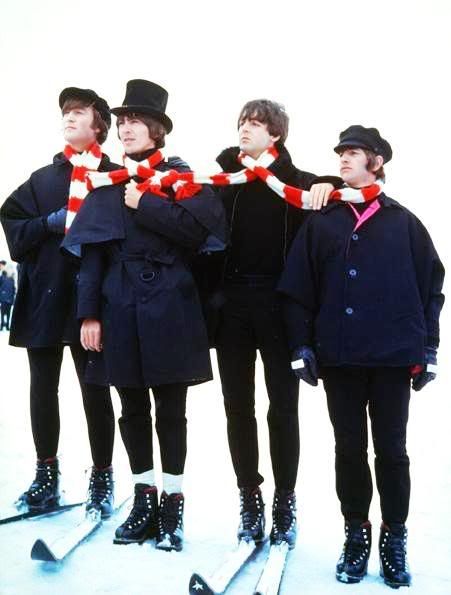 Ahme rescues Ringo by giving Foot a shrinking solution in exchange. The two try to escape the ship by jumping into the water, however Ringo can't swim. They are captured by the cult and tied down on the beach where they are surrounded by two battalions of Kukhri Rifles. Clang begins the ceremony to sacrifice Ringo, after telling him that the cult members are prepared to attack the rest of the Beatles and police when they come to the rescue and that if Ringo attempts to warn them he will die instantly.
Ringo manages to untie himself and tries to wave to his band mates to warn them away. With this act of courage (a subplot implies he is a coward; which is why he hasn't been able to get the ring off), the ring falls from his finger. He puts the ring on Clang's hand, saying "Get sacrificed! I don't subscribe to your religion!" Ahme declares that Clang will be the next sacrifice, as he is wearing the ring. The movie ends with Help! playing one last time and everyone running around. Clang manages to remove the ring and gives it to Foot and Algernon (who ask him to translate the Eastern text on the shrinking solution bottle). They, however, leave the ring in the sand while the police rush about arresting the cult while the Beatles playfully run around; the ring ends up on Bhuta's finger and he becomes the target for sacrifice. The movie ends with a dedication to "Elias Howe, who, in 1846, invented the sewing machine".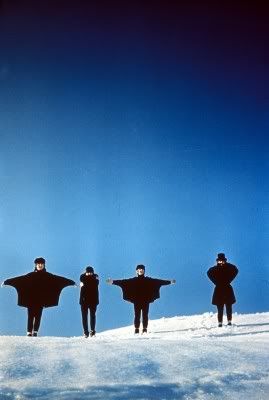 The credits feature the characters acting up in front the camera, with the jewel of the ring being placed in front of the lens. The music playing during the credits is the Overture of The Barber of Seville by Gioachino Rossini, with the Beatles adding their own laughing and comments.
Production
According to interviews conducted with Paul McCartney, George Harrison, and Starr for
The Beatles Anthology
, director Richard Lester was given a larger budget for this film than he had for
A Hard Day's Night
thanks to the commercial success of the latter. Thus, this feature film was in colour and was shot on several exotic foreign locations. It was also given a fuller musical score than
A Hard Day's Night
, provided by a full orchestra, and including pieces of well known classical music: Wagner's Lohengrin, Act III Overture, Tchaikovsky's 1812 Overture, Beethoven's Ninth Symphony (Ode to Joy), and, during the end credits and with their own comic vocal interpretation, Rossini's Barber of Seville overture.
Help!
was set in London, Salisbury Plain, the Austrian Alps, Providence Island in the Bahamas and Twickenham Film Studios, beginning in the Bahamas on 23rd February 1965. Ringo Starr commented in
The Beatles Anthology
that they were in the Bahamas for the hot weather scenes, and therefore had to wear light clothing even though it was rather cold. According to The Beatles Anthology, during the restaurant sequence filmed in early April, George began to discover Indian-style music, which would be a key element in future songs such as Norwegian Wood. Filming finished on 14th April at Ailsa Avenue in Twickenham.
The Beatles did not particularly enjoy the filming of the movie, nor were they pleased with the end product. Lennon said in 1970 that they felt like extras in their own movie.
"The movie was out of our control. With
A Hard Day's Night
, we had a lot of input, and it was semi-realistic. But with
Help!
, Dick Lester didn't tell us what it was all about. I realize, looking back, how advanced it was. It was a precursor for the Batman 'Pow! Wow!' on TV -- that kind of stuff. But he never explained it to us. Partly, maybe, because we hadn't spent a lot of time together between
A Hard Day's Night
and
Help!
, and partly because we were smoking marijuana for breakfast during that period. Nobody could communicate with us, it was all glazed eyes and giggling all the time. In our own world. It's like doing nothing most of the time, but still having to rise at 7AM, so we became bored." —John Lennon on filming
Help!
A contributing factor was exhaustion attributable to their very busy schedule of writing, recording and touring. Afterwards they were hesitant to begin another film project, and indeed Help! was their last full-length scripted theatrical film. Their obligation for a third film to United Artists was met by the 1970 documentary film
Let It Be
. The 1968 animated film
Yellow Submarine
did not meet contractual obligations because it did not star the Beatles themselves, and their only live appearance was featured for less than two minutes at the film's conclusion.
"Haze of Marijuana"
The Beatles later said the film was shot in a "haze of marijuana". According to Ringo Starr's interviews in
The Beatles Anthology
, during the Austrian Alps film shooting he and Paul ran off over the hill from the "curling" scene set to smoke a joint."
"A hell of a lot of pot was being smoked while we were making the film. It was great. That helped make it a lot of fun...In one of the scenes, Victor Spinetti and Roy Kinnear are playing curling: sliding along those big stones. One of the stones has a bomb in it and we find out that it's going to blow up, and have to run away. Well, Paul and I ran about seven miles, we ran and ran, just so we could stop and have a joint before we came back. We could have run all the way to Switzerland. If you look at pictures of us you can see a lot of red-eyed shots; they were red from the dope we were smoking. And these were those clean-cut boys! Dick Lester knew that very little would get done after lunch. In the afternoon we very seldom got past the first line of the script. We had such hysterics that no one could do anything. Dick Lester would say, 'No, boys, could we do it again?' It was just that we had a lot of fun — a lot of fun in those days."—Ringo Starr
In the
Beatles Anthology Director's Cut
, George Harrison admitted that they were smoking marijuana on the plane ride all the way to the Bahamas.
Paul McCartney also shared some of his memories of when they were filming
Help!
!:
"We showed up a bit stoned, smiled a lot and hoped we'd get through it. We giggled a lot. I remember one time at Cliveden (Lord Astor's place, where the Christine Keeler / Profumo scandal went on); we were filming the Buckingham Palace scene where we were all supposed to have our hands up. It was after lunch, which was fatal because someone might have brought out a glass of wine as well. We were all a bit merry and all had our backs to the camera and the giggles set in. All we had to do was turn around and look amazed, or something. But every time we'd turn round to the camera there were tears streaming down our faces. It's OK to get the giggles anywhere else but in films, because the technicians get pissed off with you. They think, 'They're not very professional.' Then you start thinking, 'This isn't very professional — but we're having a great laugh.'" —Paul McCartney
"Tom did once offer me a joint. And I obligingly tried to take a little puff. I knew there was some special way of doing it — but I don't smoke anyway. So I took a little puff and then thought, "This is so expensive. I mustn't waste it!" And gave the stuff back to him."
en.wikipedia.org/wiki/Help%21_%28film%29
The Beatles "Help" 1965 movie trailer. (2.34 minutes)
youtube.com/watch?v=6M3skID44Gg
The Beatles "Help" 2007 movie trailer. (1.15 minutes)
youtube.com/watch?v=stYEr1HrkiI
The Beatles "Help" movie. - Part 1 of 10 (9.13 minutes)
youtube.com/watch?v=oFyWW12YQys
The Beatles "Help" movie. - Part 2 of 10 (9.13 minutes)
youtube.com/watch?v=y7LMo3Xf1ZQ
The Beatles "Help" movie. - Part 3 of 10 (9.14 minutes)
youtube.com/watch?v=8UCs36Bh7KY
The Beatles "Help" movie. - Part 4 of 10 (9.13 minutes)
youtube.com/watch?v=fqFCntwAvYI
The Beatles "Help" movie. - Part 5 of 10 (9.12 minutes)
youtube.com/watch?v=7VSJOiqomws
The Beatles "Help" movie. - Part 6 of 10 (9.13minutes)
youtube.com/watch?v=0u6DAABPcXQ
The Beatles "Help" movie. - Part 7 of 10 (9.13 minutes)
youtube.com/watch?v=Fpt4q7Bgkkc
The Beatles "Help" movie. - Part 8 of 10 (9.13 minutes)
youtube.com/watch?v=Cacgwzy22LA
The Beatles "Help" movie. - Part 9 of 10 (9.13 minutes)
youtube.com/watch?v=N_Io220CRnY
The Beatles "Help" movie. - Part 10 of 10 (9.05 minutes)
youtube.com/watch?v=IztT5z9iQh4
A Beatles documentary on the making of "Help." - Part 1 of 4 (8.20 minutes)
youtube.com/watch?v=rLGTOYp4WuU
A Beatles documentary on the making of "Help." - Part 2 of 4 (8.22 minutes)
youtube.com/watch?v=isWJfpvEnWc
A Beatles documentary on the making of "Help." - Part 3 of 4 (8.27 minutes)
youtube.com/watch?v=ZyFmPCyg4rY
A Beatles documentary on the making of "Help." - Part 4 of 4 (4.27 minutes)
youtube.com/watch?v=j53UpqMbiTU
The Beatles "Help" DVD may be purchased online, released November 6, 2007, 149 minutes.
www.amazon.com/Help-John-Lennon/dp/B000VSBX34/ref=sr_1_2?ie=UTF8&s=dvd&qid=1215907935&sr=1-2