Post by yerblues1968 on Jul 9, 2008 1:12:37 GMT -5
A Photo of Louise Harrison, George Harrison's sister.
LOUISE HARRISON NURTURES FAB FOUR LEGENDS
By Tim Bryant
ST. LOUIS POST-DISPATCH
stltoday.com
07/08/2008
BRANSON, Mo. — Louise Harrison had a dream.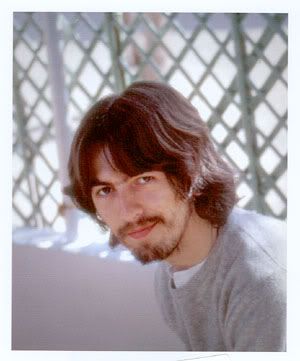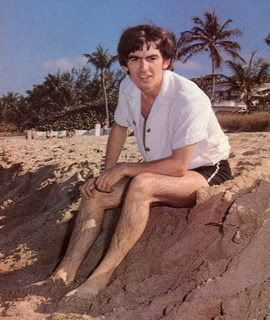 George Harrison
She dreamed her younger brother, George, had not died of cancer. He was healthy and happy to see her. Louise told George to move to Branson, buy a big house and sit in with a
Beatles
tribute band, the
Liverpool Legends.
The Liverpool Legends
When Louise's dream ended, she woke up and "just cried my eyes out," she said recently.
Louise has spent the past few years in Branson, working with the
Liverpool Legends
and trying to keep the
Beatle's
legend alive. (The band has roots in Chicago, but it landed in the southwest Missouri Ozarks three years ago.)
Louise has spent much of her life nurturing the legend — in the flesh and in spirit. She was 11 when her youngest brother, George, was born Feb. 25, 1943, at the family's home in Liverpool, England. She first held George when he was eight hours old. He died Nov. 29, 2001, in Los Angeles. He was 58.
George played lead guitar for the
Beatles
and wrote some of the songs the Fab Four recorded from the early 1960s until 1970, when the band broke up. In between, he performed with the
Beatles
, recorded numerous solo albums, became the first rock star to organize a major charity concert — the
Concert for Bangladesh
, produced Monty Python films and with Tom Petty and others formed the
Traveling Wilburys
.
PROMOTER FROM
Southern Illinois
To hear her tell it, without Louise's efforts, Beatlemania might never have crossed the Pond. In the early 1960s, Louise was living in Benton, Ill., the heart of Illinois coal country about 100 miles southeast of St. Louis, with her husband, a mining engineer, and two children.
But beneath the facade of ordinary Midwestern housewife lay the soul of a promoter. Louise burned to help George and his band mates, who at the time were unknown in the United States. She gave herself the job of making the
Beatles
as popular in Southern Illinois, St. Louis and the rest of America as they were in England.
At her own expense, she sent
Beatles
records to radio stations in southern and central Illinois, northern Kentucky, southeastern Missouri and St. Louis. She talked up the
Beatles
with longtime St. Louis disc jockey Ron Elz, aka Johnny Rabbitt.
When George and his brother, Peter, visited Benton in September 1963, Louise got George a gig with a local band at the VFW hall in Eldorado, Ill. Five months later, on Feb. 9, 1964, 20-year-old George, John Lennon, Paul McCartney and Ringo Starr appeared on ''The Ed Sullivan Show'' in New York.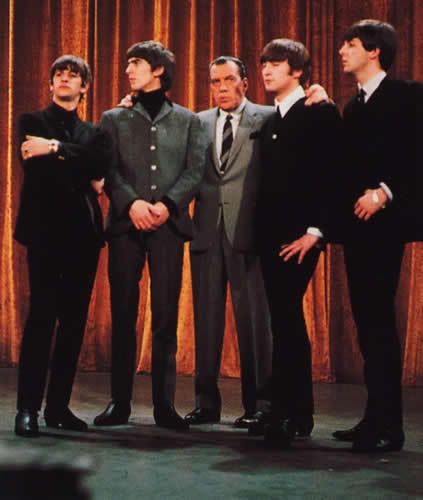 The Beatles and Ed Sullivan
Tens of millions of people watched and overnight, and the
Beatles
became a sensation.
Louise sat in the seventh row.
Ed Sullivan, Brian Epstein, John Lennon, Ringo Starr, and Paul McCartney. George Harrison is noticeably absent in the photos.
George almost missed the performance. The day before, he had strep throat and a 104-degree fever and was too sick to leave his suite at New York's Plaza Hotel.
Beatles
manager Brian Epstein squelched a doctor's effort to put George in the hospital. Instead, Louise moved into George's room at the Plaza and she was left in charge of making him well. She did, and the rest is history.
'I LOVED MY BROTHER'
"I wanted to be in the band," Louise said. "I wasn't doing it for the money; I never, ever wanted to get paid for anything. I was doing it because I loved my brother."
Unfortunately, her efforts on her brother's behalf were not universally perceived as helpful. While the boys were in New York, Louise arranged radio interviews for George, including one in which he played his new 12-string Rickenbacker guitar. Epstein, meanwhile, had booked an exclusive interview with New York DJ Murray the K, "the first fifth Beatle."
Furious, Epstein banished her from the Beatles' inner circle.
"I suddenly became totally invisible," she said.
Undaunted, Louise continued to work on behalf of the
Beatles
, she said. She became "sort of a celebrity" once-removed through her radio reports on the band's doings, which aired locally on KXOK. At the
Beatles'
only St. Louis concert, in Busch Stadium on Aug. 21, 1966, Louise sat in the dugout.
Louise says her efforts to promote the
Beatles
eventually alienated her husband; they divorced after 14 years of marriage. She remains a British subject but has lived in the United States for 45 years.
Before moving to Branson, Louise lived in New York, Connecticut and Florida. In the 1990s she ran a "very unprofitable" business. She also started Branson's first recycling program.
'LOU' IN BRANSON
She now helps manage the
Liverpool Legends
, a successful
Beatles
tribute band in Branson, where everyone calls the friendly woman with the British accent "Lou." The group performs
Beatles
hits from all periods at the Starlite Theatre on Branson's main drag between the Riverboat and Dollar $aver motels.
Marty Scott, aka
Liverpool Legend
George, met Louise in Chicago just weeks after the real George died in 2001. Scott and Kevin Mantegna, a John Lennon impersonator, had been performing there as a duo.
Their efforts to put together a full
Beatles
tribute band produced
Liverpool Legends
. After touring relentlessly, the band put down roots in Branson.
The band's increasing popularity allowed it to move this year from a dingy theater near the far end of the Branson music strip to the larger Starlite Theater.
Liverpool Legends
took the stage May 17 at the 880-seat theater's grand reopening. Daily performances are marketed to baby boomers who tend to bring their children to shows, Scott said.
Arthritis in her right hip forces Louise to use a cane, but she introduces
Liverpool Legends
at each show and tells audiences her stories about George and the
Beatles
. Scott said audiences sometimes believe, incorrectly, that
Liverpool Legends
lip-syncs
Beatles
recordings.
"We're not perfect," he said. "We're trying to do the best we can."
At the end of the shows, Louise chats with visitors and embraces some with what she calls "the Harrison hug."
Love provides "a life balance," she said. "Pass it on."
tbryant@post-dispatch.com | 636-255-7212
Liverpool Legends, "Do You Want To Know A Secret." (2.06 minutes)
youtube.com/watch?v=L1QLoiNyYno
Liverpool Legends, "A Day In The Life." (1.42 minutes)
youtube.com/watch?v=ziZSg1K2osY
Liverpool Legends, "Something." (1.52 minutes)
youtube.com/watch?v=DnpWgGuKXCc
Liverpool Legends, "Sgt. Pepper." (2.43 minutes)
youtube.com/watch?v=4Cn9eHHMqVY
Liverpool Legends, "Yellow Submarine." (1.15 minutes)
youtube.com/watch?v=lFrBSQPww9U
Liverpool Legends, "Twist and Shout." (4.20 minutes)
youtube.com/watch?v=3suTBf5TsAU
Liverpool Legends award presentation as Best New Show and Best Band for 2006 (1.07 minutes)
youtube.com/watch?v=JmSB7SauIyA
The Liverpool Legends website:
www.liverpoollegends.com/
www.starlitetheatre.com/Shows/Entries/2008/3/11_Liverpool_Legends.html
www.stltoday.com/stltoday/entertainment/stories.nsf/music/story/D797EA17068A10108625747F006888A8?OpenDocument