Post by yerblues1968 on Jul 4, 2008 17:16:25 GMT -5
Pete Best as a Beatle and as he is now. Pete Best has his own group called, "The Pete Best Band."
PETE BEST TODAY
Peter Randolph Best (born November 24, 1941) was an early drummer for The Beatles from Madras, India. The son of the owner of Liverpool's
Casbah Club
where the Beatles played occasionally, Best was first invited to join the band in 1959, later rejoining for their 1960-1961 residency in Hamburg. He stayed until shortly after their first audition for EMI in 1962, being fired on August 16 that year to be replaced, for musical reasons, by Ringo Starr, then of
Rory Storm and the Hurricanes
. This led to a falling out with both John Lennon and with Paul McCartney.
Drummer of Liverpool's
Black Jacks
and son of Mona Best, owner of the
Casbah Club
, Best often sat in with the Quarry Men when they played the
Casbah
. On the eve of their first trip to Hamburg in August 1960, John, Paul and George asked Best to come along. He jumped at the opportunity.
Thus, Best became the Beatles' first official drummer. From the start, it was clear that he didn't quite fit in. Shy and with little to say, he would often sit quietly at a bar or stay at home while the other three engaged in wild exploits through the
Reeperbahn
, Hamburg's red light district. Certainly, he was the most popular with Liverpool's female population. Some people even say that was why he was dismissed from the Beatles so abruptly.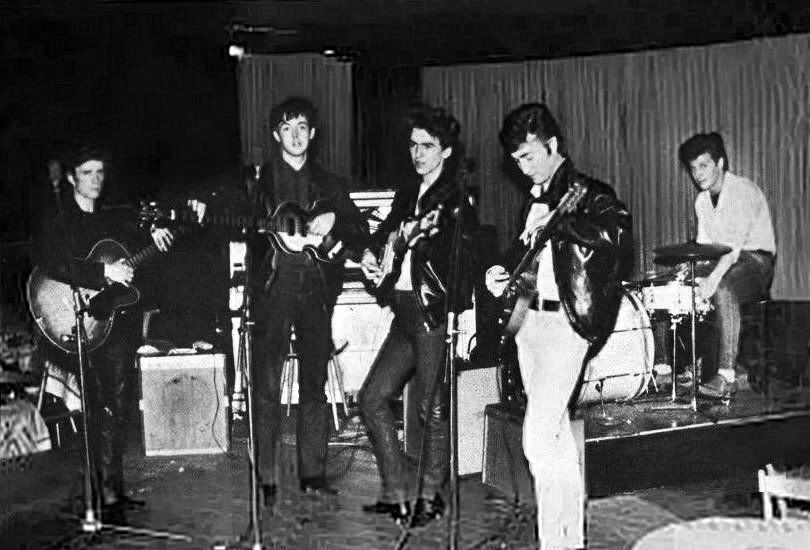 There were originally five Beatles. From left to right are Stuart Sutcliff, Paul McCartney, George Harrison, John Lennon, and Pete Best on drums. Stuart Sutcliffe played bass guitar but left the band to pursue art college before the Hamburg tour.
Both anecdotal and recorded evidence, however, suggests that his musical talents were not up to par with either the other Beatles or his replacement, Ringo Starr. He did record with the group in Hamburg (for sessions on which they mostly functioned as a backup band for Tony Sheridan), as well as their 1962 Decca audition, a couple of early 1962 BBC sessions, and their June 1962 EMI audition. Some of these tracks are officially available on
The Beatles Anthology 1
; many others are included on bootlegs. The scant body of work from this period suggests that Best was no more than a mediocre drummer.
Another photo of the five Beatles. Pictured are Pete Best, George Harrison,
John Lennon, Paul McCartney, and Stuart Sutcliffe.
Although the full story remains unclear, shortly after their visit to EMI's Abbey Road studio in June 1962 (during which George Martin had suggested that the band would need to hire a studio drummer for recording sessions), Brian Epstein called Best into his office and told him that the others wanted him out of the group. Best was crushed and fans in Liverpool were shocked and angry.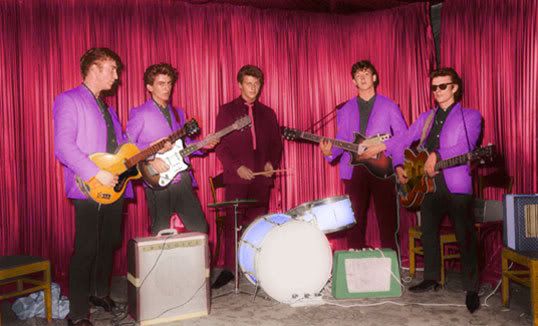 The five Beatles: John Lennon, George Harrison, Pete Best, Paul McCartney and Stuart Sutcliffe.
Most fans don't know that Best did continue to perform and record for a few years, usually as the leader of his own group, and usually for cheapo companies eager to exploit his notoriety as an ex-Beatle. Certainly these discs are of little interest to anyone besides Beatle / British Invasion obsessives. But if you're on that path already, you might find them — and indeed the whole Pete Best solo chapter — more interesting than you would expect.
Peter Randolph Best was born in Madras, India on November 24, 1941. His parents were Mona, who was a red-cross nurse, and John Best, an army physical training instructor. His brother, Rory, was born in 1944 and the following year the family sailed to England and settled in Liverpool. He passed the 11-Plus examination at Blackmoor Park primary school in West Derby and moved into the Collegiate Grammar School.
Different angles of The Casbah Coffee Club; Pete Best's former home.
The Casbah Coffee Club cellar where The Quarry Men played. Pictured are the
original amplifiers used by The Quarry Men, later known as The Beatles.
A plaque now hangs at the
Casbah Coffee Club. It reads,
"CASBAH COFFEE CLUB,
Birthplace of the BEATLES,
Established 29th August 1959,
Unveiled by,
JOE DEVANNY - Lord Mayor of Liverpool,
&, PETE BEST, Original Beatle,
on Tuesday 29th June 1999."
Mona Best converted their large house into a club called
The Casbah
where in August 1959 and group called
The Quarry Men
became the resident band there. Several weeks later, John, Paul, and George were arguing about whether or not guitarist Ken Brown should be paid for a gig he did not perform in due to an illness. As a result, Ken left the group and talked Pete into forming a group with him called
The Blackjacks
a name originally thought up by John. Mona bought Pete a drum kit from the music department at
Blackler's
store and the band began to build up a loyal following with a rock 'n' roll repertoire of numbers by Chuck Berry, Little Richard, Jerry Lee Lewis and Carl Perkins.
The Quarry Men with Stuart Sutcliffe, John Lennon, Paul McCartney, drummer Johnny Hutchinson and George Harrison. This was for an audition for a band to support Bill Fury. The original drummer Tommy Moore was behind schedule for the audition. Photo was taken on Tuesday, May 10, 1960 at the Wyvern Social Club (The Blue Candle) 108 Seel Street Liverpool.
In the meantime,
The Quarry Men
had changed their name to
The Beatles
and the band had just lost it's drummer Tommy Moore. The band was to go to Hamburg in a matter of days and they needed a new drummer. Pete got a phone call from Paul McCartney asking him, "How'd you like to come to Hamburg with
The Beatles
?" Pete was only too pleased to accept and successfully auditioned for the group at Allan William's club.
Before being discovered by Brian Epstein, the Beatles wore leather. Pictured are
George Harrison, John Lennon, Pete Best and Paul McCartney lying down.
In Hamburg
The Beatles
were subjected to long hours each night on stage and were told to
make a show
for the paying customers.
The Beatles
played at a small club called the
Indra
, then moved to the
Kaiserkeller
where they were second on the bill to
Rory Storm & the Hurricanes
. During this time, Pete had become firmly established as a member of the group, not only on stage, but joining the other in drinking bouts and in picking up girls. Pete seemed to be particularly popular with the girls who attended
[Kaiserkeller.
The group was about to continue their Hamburg season by appearing at a rival club to the
Kaiserkeller, The Top Ten,
when Pete and Paul were accused of trying to set fire to the
Bambi Kino
by the
Kaiserkeller
owner, and both were deported. Peter Eckhorn, who ran
The Top Ten Club
, was able to send Pete's kit back to Liverpool in a crate. Stuart Sutcliffe had remained in Hamburg for a time, so Pete had to fill in as a temporary bass guitarist for their four gigs in Liverpool in December.
When they performed in Liverpool, both audiences and fellow musicians were able to see the difference Hamburg had caused. They all had improved beyond recognition. Pete was to say, "When we came back from Germany I was playing using my bass drum very loud and laying down a very solid beat. This was unheard of at the time in Liverpool as all the groups were playing the
Shadows'
style. Even Ringo in
Rory Storm's
group copied our beat and it wasn't long before most drummers in Liverpool were playing the same style. This way of drumming had a great deal to do with the big sound we were producing." This beat was referred to as
The Atom Beat"
.
For the next year, Pete and his mother Mona were acting managers of the group. Pete was encouraged to be included in a singing spot in the act.
Peppermint Twist
was decided upon as the song for Pete and his popularity grew. Enough so that Pete was placed in front of the other three at a St. Valentine's Dance on February 14, 1961. Pete was mobbed by girls and was almost pulled off the stage into the audience.
It was Mona Best who originally made the first approach to
The Cavern Club
on behalf of
The Beatles
. She contacted Ray McFall and discussed the group with him. He said he'd think about it. It was Pete who then called Peter Eckhorn and fixed them up with their
Top Ten,
Hamburg session in April 1961. Also during that year, Mona contacted
Granada Television
in an attempt to secure them a spot on the program
People And Places
.
George Harrison, Paul McCartney, John Lennon and Pete Best.
Soon Brian Epstein would become
The Beatles
manager and he discussed many gigs and fees with Pete and the relationship between them seemed to be quite an amicable one. When the group auditioned for Decca they were turned down and there was no comment of any sort regarding Pete's ability as a drummer.
Pete learned about the Decca rejection weeks after the others knew, "I was hurt because I was the last to know about it" said Pete. This was the one of the earliest warning signs about Pete becoming replaced. Another was one day while Pete and Paul were having lunch Pete mentioned that he wanted to buy a Ford Capri. Paul told him, "If you take my advice you won't buy it, that's all. You'd better be saving your money."
On August 16, 1962, Pete was called to Brian Epstein's to have a meeting. Pete presumed it would be the usual discussion about the forthcoming gigs. He was completely taken off guard when Brian told him, "The boys want you out of the group. They don't think you're a good enough drummer." While he was in the office the phone rang-it was Paul, asking if Pete had been given the news. Brian had told Pete that he'd been replaced by Ringo but asked if he could perform at the next gig at
Chester
prior to Ringo taking his place. When Pete's mother learned of the news, she immediately tried to contact Epstein by phone, without success.
Pete would later go on to a solo career with his new band
Pete Best All Stars
. The band went to Decca Records, the same company that rejected
The Beatles
, and signed Pete and his band. Their debut single
I'm Gonna Knock On Your Door
, issued in June 1964, wasn't a success and Decca dropped the group.
When you think of the
Beatles
, four names come to mind: John, Paul, George and Ringo. And why not? They were the
Fab Four
who made music history and changed the world from 1964 until 1970. But there were two other members of the
Beatles
in their early incarnation, one named Stu Sutcliffe, the other Pete Best. Stu left the band to go to art school and drummer Pete Best was kicked out in 1962 and replaced by Ringo Starr. Not long after that, the
Beatles
exploded onto the international music scene with a force and cultural influence rivaled only by Elvis Presley. All Pete Best could do was watch the parade pass him by. Fast forward to 2005 to an intimate club called
Jammin' Java
in Vienna, Va. on a hot August night. Pete Best himself is playing before a sold-out crowd, fronting a rowdy English-pub style band behind a banner that says "Best of the Beatles." It's a cocky gesture, but a fitting and well received one. "Good for you, Pete" was the goodwill sentiment permeating the crowd.
The band ripped through a number of standards such as,
What I Say, Sweet Georgia Brown, Rollover Beethoven
and
Mr. Postman
.
Mixed in were Beatles originals,
The One After 9:09, P.S. I Love You
and
I Saw Her Standing There.
"
The two-set show ended with a rousing, crowd participation version of
Twist and Shout
It was a satisfying finale, but the singer didn't have the God-given talent John Lennon had to bring that song to the frenzied heights that had girls in the '60s fainting and crying uncontrollably. But it was a valiant and solid way to close out the reprise of the British invasion and the mostly middle-aged crowd went home smiling. They had seen and heard a
Beatle
up close.
After the show, a tired but happy Pete Best was gracious and open, even though he and the band were driving to New York that night to catch a plane to Los Angeles the next morning.
Phil Melia and Paul Parry of "The Pete Best Band." More photos of the Pete Best Band.
I asked Pete Best the most obvious and awkward question first: "Why were you kicked out of the band?"
Pete lowered his head and said "Oh, I don't really know to this day. I was told they wanted a better drummer, I was anti-social, they didn't like my hair, but it is still very much a gray area and the reasons don't hold water."
Roag Best, Pete Best's half brother by Neil Aspinall, also plays drums in the Pete Best Band.
Roag Best interviewing Pete Best.
I also wondered if Pete had called George Harrison before he died. "No," Pete answered curtly. In fact, Pete has never spoken to any of the Beatles since he was let go, adding neither he nor Paul nor Ringo have ever tried to make contact. Surprisingly Pete isn't bitter and is now receiving royalties for the first time. The Beatles "Anthology" CD has put a nice chunk of money in his pocket, but he doesn't say how much.
What is refreshing to hear is this 66-year-old man talk about how lucky he was and is. "You know, Brian Epstein, Stu, John and George are all gone. I am still in love with the woman I married 42 years ago. I have two beautiful daughters and four wonderful grandkids and a band I love making music with. As long as I have my health, I'm just going to keep on going."
And with that, Pete Best, ex-Beatle, headed out the back door of the club. There was a long drive ahead, a plane to catch and more gigs to play. Pretty much just like it was 45 years ago in Liverpool and Hamburg.
beatlesnumber9.com/stupete.html
Pete Best on "I've Got A Secret" in March 1964. (3.23 minutes)
youtube.com/watch?v=ToLZewcgIK8
Pete Best interview on The Bob Rivers Show in Oct. 2007- Part 1. (5.24 minutes)
youtube.com/watch?v=IYcSWk9QUIw
Pete Best interview on The Bob Rivers Show in Oct. 2007 - Part 2. (7.10 minutes)
youtube.com/watch?v=g_PiiARMz6U
Pete Best interview by Studio Kaiju at Club Infinity on June 12, 2007 - Part 1 (5.00 minutes)
youtube.com/watch?v=4Awxn1bvOE8
Pete Best interview by Studio Kaiju at Club Infinity on June 12, 2007 - Part 2 (6.27 minutes)
youtube.com/watch?v=XZ02X732eGk
Pete Best Band performing "One After 909." (3.02 minutes)
youtube.com/watch?v=61R2ZGHbgZg
Pete Best Band performing "P.S. I Love You." (2.02 minutes)
youtube.com/watch?v=DJxGVZCNMOM
Pete Best Band performing "Cry For A Shadow." (2.25 minutes)
youtube.com/watch?v=TcOo_zWL6vA
Pete Best Official Websites. Please visit for more information and photos.
www.petebest.com/
Listen to 3 tracks of Pete Best Band
Haymans Green
album due Sept. 2008:
www.myspace.com/thepetebestband