Post by yerblues1968 on Jul 3, 2008 1:14:53 GMT -5
HEY JUDE
Hey Jude
is a song by the English rock band The Beatles that was recorded in 1968. Originally titled
Hey Jules
, the ballad was written by Paul McCartney—and credited to Lennon/McCartney—to comfort John Lennon's son Julian during his parents' divorce.
Hey Jude
begins with a verse-bridge structure based around McCartney's vocal performance and piano accompaniment; further details are added as the song progresses to distinguish sections. After the fourth verse, the song shifts to a fade-out coda that lasts for more than four minutes.
Julian Lennon and his father, John.
Hey Jude
was released in August 1968 as the first single from The Beatles' record label Apple Records. Over seven minutes in length,
Hey Jude
was at the time the longest single ever to top the British charts. It also spent nine weeks as number one in the United States—the longest run at the top of the American charts for a Beatles single. The single has sold approximately eight million copies and is frequently included on professional lists of the all-time best songs.
INSPIRATION AND COMPOSITION
In 1968, John Lennon and his wife Cynthia Lennon separated due to his affair with Yoko Ono. Soon afterwards, Paul McCartney drove out to visit Cynthia and Julian, her son with Lennon. "We'd been very good friends for millions of years and I thought it was a bit much for them suddenly to be persona non gratae and out of my life," McCartney said. Later, Cynthia Lennon recalled, "I was truly surprised when, one afternoon, Paul arrived on his own. I was touched by his obvious concern for our welfare.... On the journey down he composed
Hey Jude
in the car. I will never forget Paul's gesture of care and concern in coming to see us."
The song's original title was
Hey Jules
, and it was intended to comfort Julian Lennon from the stress of his parents' divorce. McCartney said, "I started with the idea
Hey Jules
, which was Julian, don't make it bad, take a sad song and make it better. Hey, try and deal with this terrible thing. I knew it was not going to be easy for him. I always feel sorry for kids in divorces ... I had the idea [for the song] by the time I got there. I changed it to
Jude
because I thought that sounded a bit better." Julian Lennon discovered the song had been written for him almost twenty years later. He remembered being closer to McCartney than to his father: "Paul and I used to hang about quite a bit—more than Dad and I did. We had a great friendship going and there seems to be far more pictures of me and Paul playing together at that age than there are pictures of me and my dad."
Julian Lennon and Paul McCartney and John Lennon, Julian's father.
Although McCartney originally wrote the song for Julian Lennon, John Lennon thought it had actually been written for him:
But I always heard it as a song to me. If you think about it... Yoko's just come into the picture. He's saying.
Hey, Jude—Hey, John
. I know I'm sounding like one of those fans who reads things into it, but you can hear it as a song to me ... Subconsciously, he was saying, Go ahead, leave me. On a conscious level, he didn't want me to go ahead.
Other people believed McCartney wrote the song about them, including Judith Simons, a journalist with the
Daily Express
. Still others, including Lennon, have speculated that McCartney's failing long-term relationship with Jane Asher when he wrote
Hey Jude
was an unconscious "message to himself". In fact, when Lennon mentioned that he thought the song was about him, McCartney denied it, and told Lennon he had written the song about himself.
McCartney changed the title to
Hey Jude
because the name Jude was easier to sing. Much as he did with
Yesterday
, McCartney played the song for other musicians and friends. Ron Griffith of Badfinger, the first band to join the Beatles-owned record label Apple Records, recalled that on their first day in the studio, "Paul walked over to the grand piano and said, 'Hey lads, have a listen', and he sat down and gave us a full concert rendition of
Hey Jude
. We were gobsmacked."
RECORDING
The Beatles recorded 25 takes of
Hey Jude
at Abbey Road Studios in two nights, 29 July and 30 July 1968. These were mostly rehearsals, however, as they planned to record the master track at Trident Studios to utilize their eight-track recording machine (Abbey Road was still limited to four-tracks). One take from 29 July is available on the
Anthology 3
CD. The master rhythm track was recorded on 31 July at Trident. Four takes were recorded; take one was selected. The song was completed on 1 August with additional overdubs including a 36-piece orchestra for the song's long refrain, scored by George Martin. The orchestra consisted of ten violins, three violas, three cellos, two flutes, one contra bassoon, one bassoon, two clarinets, one contra bass clarinet, four trumpets, four trombones, two horns, percussion, and two string basses. While adding backing vocals, The Beatles asked the orchestra members if they would clap their hands and sing along to the refrain in the song's coda. Most complied (for a double fee), but one declined, saying "I'm not going to clap my hands and sing Paul McCartney's bloody song!"
Ringo Starr almost missed his drum cue. He left for a toilet break—unnoticed by the other Beatles—and the Beatles started recording. In 1994, McCartney said, "Ringo walked out to go to the toilet and I hadn't noticed. The toilet was only a few yards from his drum booth, but he'd gone past my back and I still thought he was in his drum booth. I started what was the actual take, and
Hey Jude
goes on for hours before the drums come in and while I was doing it I suddenly felt Ringo tiptoeing past my back rather quickly, trying to get to his drums. And just as he got to his drums, boom boom boom, his timing was absolutely impeccable."
SINGLE RELEASE
Hey Jude
was released on 26 August 1968 in the United States and 30 August in the United Kingdom, backed with
Revolution
on the B-side of a 7" single. The single was the debut release of the Beatles' record label Apple Records, and it was also the first Beatles single to be issued in a paper sleeve instead of a picture cover. Even though
Hey Jude
was recorded during the sessions for The Beatles, also known as
The White Album
, it was always intended as a single and not an album track. Lennon wanted
Revolution
to be the A-side of the single, but the other Beatles did not agree. In his 1970 interview with
Rolling Stone
, he said
Hey Jude
was worthy of an A-side, "but we could have had both." Ten years later in 1980, he told
Playboy
he still disagreed with the decision.
On 30 November 1968
NME
reported that sales had reached nearly six million copies worldwide.
Hey Jude
became the biggest-selling debut release for a record label ever, selling an estimated eight million copies worldwide and topping the charts in eleven different countries. It remains the Beatles' most commercially successful single.
Hey Jude
was the top Billboard Hot 100 single for 1968, according to year-end charts. While the record was certified gold the day before it entered the U.S. charts, it took almost thirty years to be certified platinum, on 17 February 1999.
CRITICAL RECEPTION
Upon the release of the
Hey Jude
single, Time contrasted it with its B-side
Revolution
. Time wrote, "The other side of the new disk urges activism of a different sort" as McCartney "liltingly exhorts a friend to overcome his fears and commit himself in love." Music analyst Alan Pollack praised
Hey Jude
saying, "it's such a good illustration of two compositional lessons—how to fill a large canvas with simple means, and how to use diverse elements such as harmony, bass line, and orchestration to articulate form and contrast." He also said it is unusual for a long song because it uses a "binary form that combines a fully developed, hymn-like song together with an extended, mantra-like jam on a simple chord progression." Pollack described the song's long outro and fadeout as "an astonishingly transcendental effect," while Unterberger observed, "What could have very easily been boring is instead hypnotic".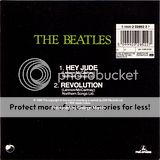 The single release of
Hey Jude
on Side 1 and
Revolution
on Side 2 of the 45 rpm record.
The Beatles Again
album was renamed
Hey Jude
to promote the the single track.
Hey Jude
was nominated for the Grammy Awards of 1969 in the Record of the Year, Song of the Year and Best Pop Performance by a Duo or Group with Vocal categories, but failed to win any of them. It did win the 1968 Ivor Novello Award for "A-Side With the Highest Sales". In the
NME
1968 Readers' Poll,
Hey Jude
was named the best single of the year. In 2001,
Hey Jude
was inducted into the National Academy of Recording Arts and Sciences Grammy Hall of Fame. In 2004, it was ranked number 8 on
Rolling Stone
magazine's list of the 500 greatest songs of all time. It came in third on Channel 4's list of 100 Greatest Singles. Broadcast Music Incorporated ranked
Hey Jude
the 11th-best jukebox single of all time.
PROMOTIONAL FILM
The Beatles hired Michael Lindsay-Hogg to shoot the
Hey Jude
promotional film. Hogg had previously directed a "promo" film for
Paperback Writer
. They settled on the idea of filming with a live—albeit controlled—audience. Hogg shot the promotional film for
The Frost Programme
, with McCartney himself designing the set. Tony Bramwell, a friend of the Beatles, later described the set as "the piano, there; drums, there; and orchestra in two tiers at the back." The eventual final film was a combination of two different takes, and first aired on 8 September 1968 with David Frost introducing the Beatles as "the greatest tea-room orchestra in the world". The film was later broadcast for the United States on
The Smothers Brothers Comedy Hour
on 6 October 1968. Footage of the performance can be seen in the Anthology DVD series.
The Beatles having fun rehearsing
Hey Jude
. (2.27 minutes)
youtube.com/watch?v=BagUvGGO0DM
Different takes of the
Hey Jude
promotional film on
The David Frost Show
on September 8, 1968:
Hey Jude (7.01 minutes)
youtube.com/watch?v=BD3ovfZXO5Q
The Beatles "Hey Jude." (7:14 minutes)
youtube.com/watch?v=s2vhoo7pbJI
The Beatles "Hey Jude." Introduction by David Frost. (7:57 minutes)
youtube.com/watch?v=oLVywY5EwoA
Hey Jude. Introduction by David Frost (8.07 minutes)
www.youtube.com/watch?v=zg8bUjxYT08
en.wikipedia.org/wiki/Hey_Jude