Post by yerblues1968 on Jul 1, 2008 0:52:41 GMT -5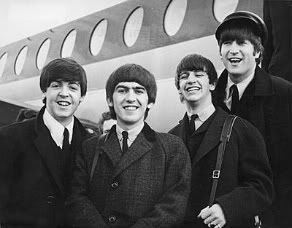 LOST BEATLES INTERVIEW UNEARTHED
By Howard Shannon
Producer, The Lost Beatles Interview
Page last updated at 14:57 GMT,
Monday, 30 June 2008 15:57 UK
For 44 years a canister of film had been stored in a damp garage in South London; unopened, unloved and almost thrown away.
But, finally, somebody took a look inside - and realised they had unearthed a piece of pop history.
This is the story of a lost Beatles interview - which is to be broadcast on BBC Radio 4 on Tuesday for the first time since it was originally recorded.
The nine-minute interview took place in the studios of Scottish Television on Thursday, 30 April, 1964.
It was thought to have been recorded on a tele-cine machine in London, and stored in a can, now rusted with the passing of decades.
Which makes it all the more remarkable that the fragile film has survived at all.
Now stored safely in a professional archive in Milton Keynes - where temperature and humidity are carefully controlled - it was found, stacked among 64 unmarked cans in a London garage, by film buff Richard Jeffs.
With a bit of detective work - using the scribbled label found inside the film can - Mr. Jeffs managed to decipher the names of the two presenters who fronted the interview in 1964.
The faded handwriting was incredibly hard to read, but patience proved successful.
The hosts were Paul Young and Morag Hood - who presented Roundup, an hour-long children's current affairs programme on Scottish television network STV.
It was the second time they had featured the Fab Four on their show - a pre-fame Beatles had mimed to their second single,
Please, Please Me
on the show in January 1963.
It's a special piece that is so laid-back it almost falls over
Beatles expert Mark Lewisohn.
Jorg Pieper, the German-born author of The Beatles Film & TV Chronicle 1961-70, says the tape is the earliest surviving long-form British studio interview with the band.
In other words, it is rare.
And it offers a revealing insight into Sir Paul McCartney and John Lennon's songwriting partnership.
"Sometimes we write them on old pianos or anything that's lying around, guitars and things. Normally we sit down and try and bash one out," explains McCartney.
"Then again, there's no formula. He [Lennon] can come up with one completely finished, but we still say we both wrote it though.
McCartney also mentions the first song he ever composed:
"We wrote funny songs then - mine was I Lost My Little Girl."
First Meeting
He went on to perform the song some 30 years later in the early 1990s.
Writer and Beatles expert Mark Lewisohn describes the interview as "candid".
"It's a special piece that is so laid back it almost falls over," he says.
McCartney and Lennon recall their first meeting when they were 13.
"I was playing at a garden fete in the village where I lived just outside Liverpool playing with a skiffle group," says Lennon. "And he came along and that's how we met."
"I knew one of his mates, Ivan. A mutual mate and he introduced us," adds McCartney.
Asked how the band likes the hordes of screaming fans, McCartney laughs: "We love that ... the atmosphere in the theatres, really it's marvelous."
The Lost Beatles Interview
airs at 1330 on Tuesday 1 July, and again at 1530 on Saturday 5 July, on BBC Radio 4.
An extract of the rediscovered interview may be seen here:
news.bbc.co.uk/2/hi/entertainment/7477669.stm