Post by yerblues1968 on Jun 22, 2008 3:36:05 GMT -5
MAGICAL MYSTERY TOUR
Magical Mystery Tour is the name of the six-song double EP and 11-song album by the English rock band The Beatles, first released in late 1967. It is the soundtrack to a one-hour television film that was originally aired, in black and white, in the UK in 1967. Initially released as an EP in the UK, the recording was expanded to a full album on subsequent U.S. release, adding several recent singles to the B-side.
While the songs on the EP proved popular, critical and popular response to the television film proved negative. Plans to air it on ABC television in the U.S. were canceled, and Magical Mystery Tour didn't appear in the U.S. until 1976, as a theatrical release on the midnight movies and college circuits, both of which were mainly underground.
Magical Mystery Tour Film
After "Sgt. Pepper's Lonely Hearts Club Band," Paul McCartney wanted to create a film based upon the Beatles and their music. The film was to be unscripted: various "ordinary" people (including John Lennon's uncle Charlie) were to travel on a charabanc bus and have unspecified "magical" adventures, in the manner of Ken Kesey's Merry Pranksters.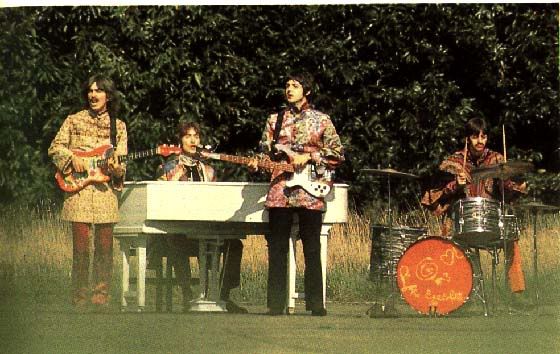 The "Magical Mystery Tour" movie was made, but the hoped-for "magical" adventures never happened. During the filming, an ever greater number of cars followed the hand-lettered bus, hoping to see what its passengers were up to, until a running traffic jam developed. The spectacle ended after Lennon angrily tore the lettering off the sides of the bus.
"Magical Mystery Tour" was the first Beatles film project following the death of manager Brian Epstein in August 1967, and there has been much speculation that the absence of Epstein's judgment contributed to its undisciplined production, as seen, for instance, in the absence of a screenplay and professional direction. The film originally appeared twice on BBC-TV over the 1967 Christmas holidays (primarily in black & white), but was savaged by critics on its release; it was, however, noted by Steven Spielberg in film school (according to McCartney in one of the interviews for The Beatles Anthology: "I've read that people like him have sort of said, 'When I was in school that was a film we really took notice of...' like an art film, you know, rather than a proper film.)
The movie's soundtrack was far more favourably received, and was nominated for a Grammy Award for Best Album and reached number 1 in the U.S for 8 weeks. It was released in the UK in December 1967 as a double EP. The American version was released in late November 1967 as an LP; its cover depicts the EP's artwork in an orange border, with a list of song titles above it. Capitol Records released MMT as full-length album because EPs were not as popular in the US as they were in the UK. The Magical Mystery Tour LP was divided into two halves: The first side was the film soundtrack, and the second side was a collection of A- and B-sides released in 1967.
LP Release
Side One
1. "Magical Mystery Tour" – 2:51
"Magical Mystery Tour." (2.42 minutes)
youtube.com/watch?v=h7pvA4EHi08
2. "The Fool on the Hill" – 3:00
"The Fool On The Hill." (2.53 minutes)
youtube.com/watch?v=zDJ-015ojec
3. "Flying" (Lennon-McCartney-Harrison-Starkey) – 2:16
"Flying" (2.13 minutes)
youtube.com/watch?v=M419oEXdiiA
4. "Blue Jay Way" (Harrison) – 3:56
"Blue Jay Way." (3.45 minutes)
youtube.com/watch?v=yQ32e5vuWCc
5. "Your Mother Should Know" – 2:29
"Your Mother Should Know." (2.26 minutes)
youtube.com/watch?v=g_jpY6dVrzE
6. "I Am the Walrus" – 4:36
"I Am the Walrus." (4.44 minutes)
youtube.com/watch?v=cqOKvonLrH8
Side Two
1. "Hello Goodbye" – 3:31
* Featuring Ken Essex, Leo Birnbaum on violas.
"Hello Goodbye." (3.23 minutes)
youtube.com/watch?v=QShSmpI0r9k
2. "Strawberry Fields Forever" – 4:10
* Featuring Mal Evans on percussion, Tony Fisher, Greg Bowen, Derek Watkins and Stanley Roderick on trumpets and John Hall, Derek Simpson, Norman Jones on cellos.
"Strawberry Fields Forever." (4.15 minutes)
youtube.com/watch?v=Ywg-PdeGVL0
3. "Penny Lane" – 3:03 SAMPLE (192k)
* Ray Swinfield, P. Goody, Manny Winters and Dennis Walton on flutes, Leon Calvert, Freddy Clayton, Bert Courtley and Duncan Campbell on trumpets, Dick Morgan and Mike Winfield on English horns, Frank Clarke on double bass and David Mason on piccolo trumpet.
"Penny Lane." (3.01 minutes)
youtube.com/watch?v=YHBKAyn17vw
4. "Baby You're a Rich Man" – 3:03
* Featuring Eddie Kramer on vibraphone.
"Baby You're a Rich Man." (3.08 minutes)
youtube.com/watch?v=2UXNtizNWyI
5. "All You Need Is Love" – 3:48
* Featuring George Martin on piano, Mick Jagger, Keith Richards, Marianne Faithfull, Keith Moon, Eric Clapton, Pattie Boyd Harrison, Jane Asher, Mike McCartney, Graham Nash and wife, Gary Leeds and Hunter Davies on backing vocals, Sidney Sax, Patrick Halling, Eric Bowie and Jack Holmes on violins, Rex Morris and Don Honeywill on sax, David Mason and Stanley Woods on trumpets, Evan Watkins and Henry Spain on horns, Jack Emblow on accordion and Brian Martin on cello.
"All You Need Is Love." (3.33 minutes)
youtube.com/watch?v=6l81PhEeSOs
en.wikipedia.org/wiki/Magical_Mystery_Tour
Magical Mystery Tour - Part 1 Intro (3.07 minutes)
youtube.com/watch?v=I2qLjQbRv3w
Magical Mystery Tour - Part 2 (6.17 minutes)
youtube.com/watch?v=0AO9T6EHO4I
Magical Mystery Tour - Part 3 (8.53 minutes)
youtube.com/watch?v=SMc3sCemS0c
Magical Mystery Tour - Part 4 (6.36 minutes)
youtube.com/watch?v=wkJ1XX4i9Uw
Magical Mystery Tour - Part 5 (10.40 minutes)
youtube.com/watch?v=MnaivJMadJk
Magical Mystery Tour - Part 6 (5.50 minutes)
youtube.com/watch?v=XER78AlftJk
Magical Mystery Tour - Part 7 (5.45 minutes)
youtube.com/watch?v=ZZvYk-VEzOU
Magical Mystery Tour - Part 8 with credits. (4.24 minutes)
youtube.com/watch?v=k65ZXm6w3zo
The Magical Mystery Tour CD may be purchased here:
www.amazon.com/Magical-Mystery-Tour-Beatles/dp/B000002UDB/ref=pd_bbs_sr_1?ie=UTF8&s=music&qid=1214123045&sr=8-1
The Magical Mystery Tour DVD may be purchased here:
www.amazon.com/Magical-Mystery-Tour-Beatles/dp/B00005AG7K/ref=pd_bbs_sr_2?ie=UTF8&s=dvd&qid=1214123045&sr=8-2