Post by yerblues1968 on Jun 1, 2008 23:25:20 GMT -5
Leon Russell's
first solo album in 1970. His second solo album,
Leon Russell and The Shelter People
was released in 1971. Leon Russell's third solo album,
Carney
, was released in 1972.
LEON RUSSELL INTERVIEW
June 1, 2008
Leon Russell is a Genius! 'Nuff said. I first saw Leon when my dad played me his
Concert For Bangladesh
DVD, and I have listened to almost everything that he has released since then. It is a considerable body of work considering that he has been writing, recording, performing or producing music continually for the last fifty years. Originally known mostly as a session musician, Russell has played with artists as varied as Jerry Lee Lewis, Phil Spector, Joe Cocker, George Harrison, BB King, Eric Clapton, The Beach Boys, Willie Nelson, Frank Sinatra, The Band,The Rolling Stones and countless others.
Leon Russell in Amsterdam1973
He penned hits for Cocker, Rita Coolidge and the Carpenters, and released his own first solo effort with the album
Leon Russell
in 1970, which contained the popular
A Song for You
. Today he continues to inspire a legion of faithful fans and maintains a grueling tour schedule. I am so grateful that he and his management were kind enough to grant this rare interview. - Cody (Neotomic Aliviac)
Leon Russell sings "A Song For You." (4:15 minutes)
youtube.com/watch?v=6UQLFiDH1lA
Neotomic Aliviac: You started playing the piano at age 3. Do you remember at what age you realized that you wanted to pursue music as more than just a hobby?
Leon Russell: I had a job sacking groceries at the Safeway store when I was about 15. After one day, I decided that I would rather lay by the road and die than work that hard. I then set out to find a job that wasn't so strenuous. It turned out to be playing piano and singing.
N.A. You wear so many different musical hats, producer, songwriter, arranger, studio musician, solo artist. Do you have a preference?
L.R. I always thought I went out on the road to raise money so I could work in the studio. I guess that's an answer of sorts.
N.A. Are you more comfortable in the studio or on stage?
L.R. I'm very comfortable in the studio, mainly because I'm at home and always working in a lane recliner.
N.A. Can you describe your songwriting process?
L.R. It's a mystery to me.
N.A. Do you sit down purposefully to write or do you have to be inspired?
L.R. I used to sit in my studio literally for months at a time, waiting for inspiration. Consequently, I was guilty of writing one or two songs a year. I finally learned how to write without inspiration, and can write whenever I need to. It only took me about twenty years to figure that out.
N.A. You have performed with Jerry Lee Lewis, George Harrison, Bob Dylan, BB King, The Rolling Stones, and countless others. Do you have a favorite session or show?
L.R. I once was on a session with Sam Cooke that Don Costa was producing. It was very exciting for me.
Leon Russell at the piano during rehearsal of the
Concert for Bangladesh
.
N.A. In the early 70s you performed at the Concert for Bangladesh. What was that experience like, and do you think the concert achieved the goal of making people aware of the poverty there?
L.R. I think it ultimately raised about twenty million dollars. I'm not sure about the awareness.
N.A. Your music reflects so many different genres. Do you have a favorite?
L.R. I'm a blues hound by nature.
Leon Russell performing at The Long Beach Blues Festival.
N.A. After more then 50 years, a whole new generation of appreciative fans are joining the LeonLifers at your shows. What do you attribute your continued success to?
L.R. I think I'm just lucky.
N.A. You've been quoted as saying that Angel in Disguise is your best album in the last 25 years. It has a great rock and roll groove much like Carney. Can you tell us a little about the making of Angel?
L.R. A friend of mine, Mike Lawler, called me and said that if I would bring him piano tracks with a vocal, that he would do all the rest of the instrumentation and the mixing and mastering. I couldn't pass that up. I spent about 6 hours on that record and my friend spent 6 months. It was a very interesting experience.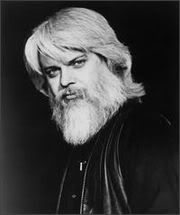 N.A. After a short break in the 90's, you went on to release a number of CDs in the last few years, including Angel. Is there a reason for this recent creative surge?
L.R. It has to do with figuring out how to write without inspiration.
N.A. Are there any artists that you would love to work with that you haven't so far?
L.R. There are so many, it's difficult to pick specific ones.
N.A. Who would you say was your greatest influence as a musician?
L.R. As a child, I was impressed by Little Richard, Jerry Lee Lewis, and Harpo Marx.
N.A. How did you get your nickname The Master of Space and Time?
L.R. I once wrote a song that contained a reference to the space and time. My partner at that time, Denny Cordell, coined the nickname.
Back To The Island
was released in 2004.
For more information on Leon Russell go to:
www.leonrussellrecords.com/
www.myspace.com/leonrussellrecords
neotomicaliviac.blogspot.com/2008/06/leon-russel-interview.html