Post by yerblues1968 on May 17, 2008 21:33:23 GMT -5
REACTION TO JOHN LENNON'S DEATH
On the morning of 9 December 1980, McCartney awoke to the news that Lennon had been murdered outside his home in the Dakota building in New York. Lennon's death created a media frenzy around the surviving members of
The Beatles
. On the evening of 9 December, as McCartney was leaving an Oxford Street recording studio, he was surrounded by reporters and asked for his reaction to Lennon's death. He replied, "I was very shocked, you know—this is terrible news," and said that he had spent the day in the studio listening to some material because he "just didn't want to sit at home." When asked why, he replied, "I didn't feel like it." He was then asked when he first heard the news, McCartney replied "This morning sometime," and one of the reporters asked "Very early?" McCartney said "yeah" and then asked the reporters if they all knew, they added "yeah." McCartney then said, "drag, isn't it?" When published, his "drag" remark was criticized, and McCartney later regretted it. He furthermore stated that he had intended no disrespect but had just been at a loss for words, after the shock and sadness he felt over his friend's murder.
McCartney later stated in a
Playboy
interview: "I had just finished a whole day in shock and I said, 'It's a drag.' I meant 'drag' in the heaviest sense of the word, you know: 'It's a — DRAG.' But, you know, when you look at that in print, it says, 'Yes, it's a drag.' Matter of fact." McCartney later said, "John will be remembered for his unique contribution to art, music and world peace." He was also to recall:
"I talked to Yoko the day after he was killed and the first thing she said was, "John was really fond of you." The last telephone conversation I had with him we were still the best of mates. He was always a very warm guy, John. His bluff was all on the surface. He used to take his glasses down, those granny glasses, and say, "It's only me." They were like a wall, you know? A shield. Those are the moments I treasure."
In 1983 McCartney said:
"I would not have been as typically human and standoffish as I was if I knew John was going to die. I would have made more of an effort to try and get behind his "mask" and have a better relationship with him.'"
In a
Playboy
interview in 1984, McCartney said that he went home that night and watched the news on television—while sitting with all his children—and cried all evening. His last telephone call to Lennon, which was just before Lennon and Yoko released
Double Fantasy
, was friendly. During the call, Lennon said (laughing) to McCartney, "This housewife wants a career!" which referred to Lennon's "house-husband" years, while looking after Sean Lennon.
McCartney carried on recording after the death of Lennon but did not play any live concerts for some time. He explained that this was because he was nervous that he would be "the next" to be murdered. This led to a disagreement with Denny Laine, who wanted to continue touring and subsequently left
Wings
, which McCartney disbanded in 1981. Also in 1981, six months after Lennon's death, McCartney sang backup on George Harrison's tribute to Lennon,
All Those Years Ago
, which also featured Ringo Starr on drums in his
Somewhere In England
album released May 11, 1981 as a single. McCartney would go on to record
Here Today
, a tribute song to Lennon in McCartney's
Tug of War
album released April 26, 1982.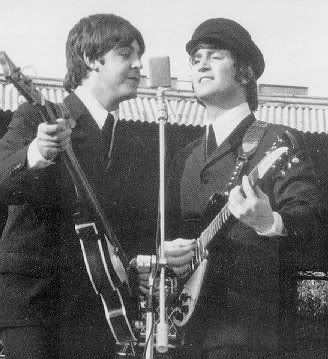 This video was taken the following evening after John Lennon's death (Dec. 8, 1980). Paul McCartney was leaving Abbey Road Studios the night of December 9, 1980 when he was approached by several reporters to find out his response over John Lennon's death, or if he even heard. He was still in a state of shock and speechless, as well as preferred to be alone during his moment of grief amidst being approached by the media. He quickly answered their questions and departed.
Paul McCartney being interviewed on his reaction to the news of John Lennon's death (0.50 minutes).
youtube.com/watch?v=xf30KfAUK5k
Paul McCartney provides a little bit more detail about his reaction on the news of John Lennon's death while he and Ringo Starr were on CNN "Larry King Live" in June 26, 2007, regarding the LOVE celebration at the Mirage casino in Las Vegas, Nevada a year later. Ringo Starr also gives more information on his response over the shocking news of John Lennon's death. Their responses are toward the end of this interview (9.13 minutes).
youtube.com/watch?v=i9KYQjtSsy8
Paul McCartney gets very emotional while singing "Here Today" alone on the stage of the Olympia in Paris, France on October 22, 2007. He pays a tribute to his long time friend John Lennon. (3:28 minutes)
www.youtube.com/watch?v=TJ52aKCOAhQ
Here is another video tribute to John Lennon of Paul singing "Here Today" with photos of both of them. (2.27 minutes)
youtube.com/watch?v=78pBx7al8_A
Paul holds back tears when hearing John Lennon singing, "Beautiful Boy." (2.27 minutes)
www.youtube.com/watch?v=rss-ZVgZz9g
Lennon's death impacted Harrison more than the other Beatles because Harrison did not get a chance to see Lennon after working with him on a couple of records. Harrison was interviewed for
The Beatles Anthology
, and when asked about Lennon's death Harrison said that he received a phone call early in the morning informing him John had been shot and had died, and that Harrison fell back asleep. But when he woke up the news hit him, and didn't know how to take it in.
Harrison was deeply shocked by the December 1980 murder of John Lennon. The crime reinforced his decades-long worries about safety from stalkers. It was also a deep personal loss, although unlike former band mates McCartney and Starr, Harrison had little contact with Lennon in the years before the murder.
George Harrison tribute song to John Lennon "All Those Years Ago." (3:40 minutes)
www.youtube.com/watch?v=85Smw33PKJA
Starr and his wife, Barbara Bach, flew to New York to comfort Ono.
A short clip from The Beatles Anthology DVD Special Features. Ringo explains about making "Free As A Bird". Ringo Starr talks about how he dealt with John Lennon presence not being there, because "He's in heaven." (0:42 minutes)
www.youtube.com/watch?v=O8Fpe7lRBuI
Ringo Starr talks about John Lennon in 1990. This was from John Lennon's birthday celebration. Ringo also sings "I Call Your Name." (3:22 minutes)
www.youtube.com/watch?v=zDmSADebifo
John Lennon Shot - BBC News 1980. The response from the surviving members of The Beatles band is expressed. Beatles Record Producer George Martin is interviewed and expressed outrage over John Lennon's murder. (6:46 minutes)
www.youtube.com/watch?v=GvaRNxSZr38
England reacts to John Lennon's murder and a clip of John Lennon. (2:13 minutes)
www.youtube.com/watch?v=G2xt2zbyhws
en.wikipedia.org/wiki/Paul_McCartney
en.wikipedia.org/wiki/George_Harrison
en.wikipedia.org/wiki/Death_of_John_Lennon