Post by christine~ on May 7, 2008 9:17:09 GMT -5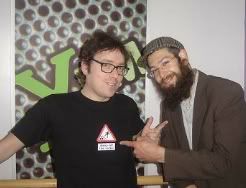 Yay, Matisyahu!
Today we feature an actual relative of Brian Epstein's.
His name is
James Hyman
:
DJ, music supervisor, video director, radio and TV presenter
.
Out of the many, many (generally reticent and showbiz-wary) members of the prolific extended Epstein/Hyman families, this is a rare one who actually enjoys public exposure. In the UK, he is indeed quite well-known amongst the younger music fans.

Eppy's mother had a brother,
The brother had a son.
This son of Eppy's mother's brother?
THAT guy had a son.
The son of Eppy's mother's brother's son ~
James Hyman is THE ONE!
(The eppylover takes a bow, ducks & dodges the rotten tomatoes, and runs away)
.............Or, in simpler terms, Brian was
a first cousin of James' father!A 1996 profile page from UPfront Magazine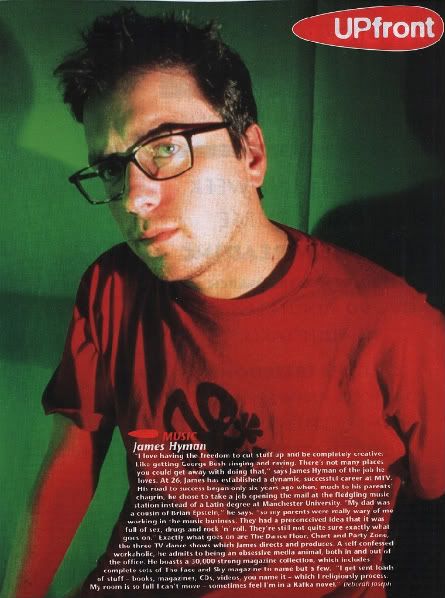 CLICK PIC FOR READABLE SIZE
~OR~
CLICK HERE FOR THE HUMONGOUS ORIGINAL SIZE
[/size][/color][/url]
---
A Great Video ~ especially the first part.
This is one of his weekly stints on a UK show called "Nuts TV" ~
in which he mentions Brian and the boys ~ CLICK HERE
Note in the vid that James pronounces it "Ep-STEEN" rather than "Ep-STINE" (in that vein, in March 2006 I made a
mrbrianepstein community
post titled
The EpSTINE-EpSTEEN Thing
). Since James is officially
"of the family"
(Hyman was Brian's mother Queenie's maiden name), this provides one more piece of evidence that the "STEEN" pronunciation is the family-preferred one. Ah well, that is indeed bad news for
my ear
, which perceives the long "i" sound in "STINE" as being more alliteratively pleasant when coupled with the long "i" sound of BrIan. Um. I do babble on.
---
To change the subject ~~
Why the h*
do these British TV producers seem to think their young entertainment show viewers prefer the stereotypical airheaded "female presenter" characters, anyway?
Where do they GET these women?
Didn't George Harrison's bit in A Hard Day's Night give them a clue?
(Cut to ancient b/w film clip)
SIMON MARSHALL,
PRODUCER OF SUPERFICIAL
TRENDY TEENAGE TV SHOW
And that pose is out too, Sunny Jim. The new
thing is to care passionately, and be right
wing. Anyway, you won't meet Susan if you don't
cooperate.
GEORGE HARRISON,
BEATLE
And who's this Susan when she's at home?
SIMON (playing his ace)
Only Susan Campey, our resident teenager.
You'll have to love her. She's your symbol.
GEORGE
Oh, you mean that posh bird who gets
everything wrong?
SIMON
I beg your pardon?
GEORGE
Oh, yes, the lads frequently gather round the
T.V. set to watch her for a giggle. Once we
even all sat down and wrote these letters
saying how gear she was and all that rubbish.
SIMON
She's a trend setter. It's her profession!
GEORGE
She's a drag. A well-known drag. We turn the
sound down on her and say rude things.
SIMON
Get him out of here!!
---
Now, back to James:


CLICK FOR MORE ON THIS
If ever she got the chance, basically, your esteemed eppylover
has one question she'd like to ask our esteemed Mr Hyman ~
~ one that would probably amuse him ~
but that can wait for another time.

Shyness or cowardice? Take your pick.
---
James Hyman Biography at MPC Entertainment
James Hyman Wikipedia entry
And, OMG,
what an impressive resume!