Post by yerblues1968 on Apr 27, 2008 0:26:30 GMT -5
Picture of George Harrison and Pattie Boyd at their wedding.
PATTIE BOYD'S PHOTOS CAPTURED THE PRESENCE AND PERSONALITY OF SOME OF ROCK'S GREATS
By David L. Coddon
UNION-TRIBUNE CURRENTS WEEKEND EDITOR
April 11, 2008
She was a Vogue model, a fresh-faced blonde from Somerset, England, with little-girl bangs that hovered over blue button eyes.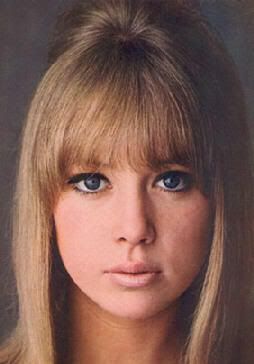 She met, on the set of "A Hard Day's Night," George Harrison, who proposed to her just 10 days later.
Now Pattie Boyd Harrison Clapton is standing in the rear of La Jolla's Morrison Hotel Gallery, surrounded by her past – and what a past: George; Eric; Beatlemania.
ROCK 'N' ROLL HISTORY
It all seems to come alive again in "The Photography of Pattie Boyd," on exhibit at the Morrison Hotel through April 27. Among the black-and-white and color images shot by the girl credited as "Jean, Schoolgirl on Train" in "A Hard Day's Night": George and the Maharishi Mahesh Yogi, in India in 1968, and kicking back in his sunglasses in Palm Springs in 1970; Clapton behind the wheel of a custom, fintail automobile; Ringo Starr, clowning as Ringo is apt to clown, with a garden statue.
This could be considered part two of Boyd's retrospective on the life of a rock 'n' roll wife, part one having been her autobiography, "Wonderful Tonight: George Harrison, Eric Clapton, and Me," published last year. But unlike book writing, photography is not a craft that has come to her later in life. (Boyd is 63.) As a fashion model, "I would hang around with photographers," she said, relaxing in the second-floor, ocean-view exhibition space at the Morrison Hotel Gallery. "I loved them. They're very free-spirited." Sound familiar? Boyd is the first to make the comparison between photographers and rock 'n' rollers. She bought her first SLR camera at the age of 18 and began shooting "everything around" before settling on landscapes.
Then came "A Hard Day's Night," and George Harrison, and The Beatles.
"It was a natural thing for me to take photographs," said Boyd, whose shots of John, Paul, George and Ringo are candid, spontaneous and very much reflective of The Beatles' individual personalities: John the thinker, and the rebel; Paul the charmer; George the quietly intense Beatle; Ringo the easygoing everyman. "They all knew me so well (that) they didn't have to pose."
But Boyd had no notion at the time that she was documenting a band – indeed an epoch in music history – for generations to come. "I didn't take them (the photographs) with any thought of them having any importance later in my life," she said.
In fact, she minimizes her Beatles photography altogether. "I was more of a girlfriend/wife than a photographer," Boyd admitted, adding that her photos were taken in a spirit of fun and affection. "George and I were in love with each other, and it didn't give me the right to be intrusive."
So how did all these casually snapped photographs end up in an exhibition that is making the rounds at the Morrison Hotel Gallery's La Jolla, L.A. and New York locations?
Pattie Boyd - rock-star wife (of George Harrison, then Eric Clapton), author and now photographer - showcases her past, in pictures, at Morrison Hotel Gallery in La Jolla.
"I'd completely forgotten that all these years I'd been taking photographs," said Boyd, who divorced Harrison in 1977 and split with Clapton in '89. It wasn't until an agent approached her four years ago that she realized "there were photographs scattered all over the place" at her home in England, "lying around in boxes and drawers."
This photograph of Eric Clapton in a hotel room is part of Pattie Boyd's exhibition.
A year later, Boyd hosted her first exhibition, in San Francisco. "I couldn't believe walking into the gallery and seeing the walls covered with images from my life from the last 20 years," she recalled.
Though Boyd describes herself as "completely self-taught," she did study photography for three months after her marriage to Clapton ended, and she is a member of the U.K.'s venerable Royal Photographic Society. She cites among her influences Bill Brandt, Helmut Newton and Annie Liebowitz. She still shoots film, though she's scouting digital cameras.
YOUNG FANS
Downstairs at the gallery, chatting in the midst of her photographs, Boyd is approached by a couple of teen girls. Their voices rising and their smiles winsome, they are clearly excited to meet this golden-haired woman in the cowboy boots – and they definitely know whom they're talking to.
"It blows me away," Boyd said later about the reception she gets from young people born 20 years or more after The Beatles disbanded. "I think they have a perception of me that I had no idea existed, that I am somebody they wanted to meet." She cannot conceive of herself as a celebrity. Boyd knows that she grew up around icons, but "to me, they were just people."
Not quite. Regarding the photos on the gallery walls, Boyd allows that they "take me back to a moment in my life. It's very emotive. ... There is enough space between me then and me now. I see the past for what it was – a time in my life. It was wonderful."
The color photograph of Clapton in that vintage car is one of her favorites. "I love the shape of the car, and I love the color. I think we were just married then. (They wed in 1979.) We were tight."
She's also partial to a black-and-white concert photo of Harrison and Clapton jamming with Delaney and Bonnie Bramlett one night in Liverpool. It's a slightly grainy image, but it boasts the passion and the proud imperfection of rock 'n' roll.
When these photo exhibitions are over, Boyd will reclaim her low profile. "My life is wonderful," she said. "I have fantastic friends. ... I still see a lot of the people I used to see. (Like Mick Jagger; Boyd recently attended the New York premiere of the new Stones documentary, 'Shine A Light.')
"I'm surprised when people think that I live in the past, gazing at old photographs and listening to old Beatles' albums."
Boyd may not reside in the past, but she isn't above sentimental journeys. She's soon off to Barbados, to research a book she's writing about the island nation.
That just happens to be where she and George spent their honeymoon.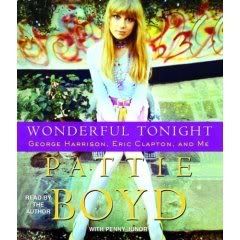 Pattie Boyd's book, "Wonderful Tonight -
George Harrison, Eric Clapton and Me"
Pattie Boyd interview on Sunday, August 26, 2007 about her book, "Wonderful Tonight" (9.58 minutes)
youtube.com/watch?v=yFKh4rdg1fQ
"Wonderful Tonight" may be purchased online:
www.overstock.com/search?keywords=wonderful%20tonight%20pattie%20boyd&taxonomy=&SearchType=HP_Header
www.amazon.com/s/ref=nb_ss_b?url=search-alias%3Dstripbooks&field-keywords=wonderful+tonight+pattie+boyd&x=16&y=26
search.barnesandnoble.com/booksearch/results.asp?WRD=wonderful+tonight+pattie+boyd&r=1
News article online:
www.signonsandiego.com/news/features/20080411-9999-1c11pattie.html
More information on Pattie Boyd's "Wonderful Tonight" book:
www.abcnews.go.com/GMA/SummerConcert/story?id=3546199&page=1
music.yahoo.com/read/news/50202739