Post by yerblues1968 on Apr 12, 2008 18:49:46 GMT -5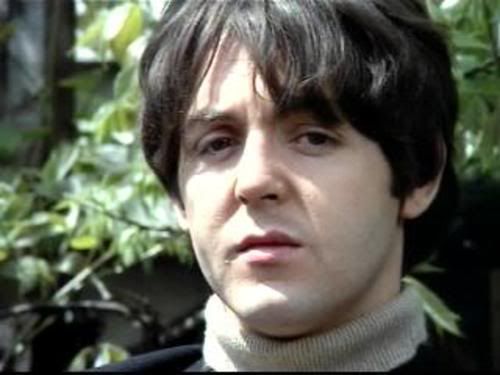 CREATION OF THE BEATLES SONG PAPERBACK WRITER
From The Times
by Barry Miles
April 11, 2008
How Paul McCartney was Inspired to Write the Song 42 Years Ago
PAPERBACK WRITER WAS written by Paul McCartney in the early spring of 1966.
Penguin
paperbacks was what I really thought of, the archetypal paperback," McCartney reflected when I asked what his inspiration was.
Penguin
was almost a generic term for paperbacks in the early Sixties: they had such market dominance that people used the word to mean any paperbound book.
Penquin
was able to publish George Orwell, Evelyn Waugh, Virginia Woolfe, Aldous Huxley, F. Scott Fitzgerald, James Joyce, D.H. Lawrence, virtually every major author. Everyone knew their colour coding: orange spine for fiction; blue for the non-fiction Pelican line; green for crime, black for classics. Germano Facetti had already introduced illustrations to the covers, but the typography and layout was still strictly standardized.
The kind of
Penguin
that McCartney was thinking of was
The L-Shaped Room
by Lynne Reid Banks, published in 1963. The working-class novels of the late Fifties and early Sixties had an immediate relevance to a group of youths down from Liverpool. McCartney:
We would be staying in Gower Street. It was like 'digs'. You could read The L-Shaped Room and totally associate. 'This is what I'm doing! This is about me.' It's true. It was an exact parallel; young professionals in a rooming house.
In the days before they stopped touring, and before they moved to London, the Beatles clocked up enormous numbers of hours in vans and buses, going from concert to concert, TV studio to recording studio. Cassette tape recorders were not yet in use, so they passed the time with books and magazines, unless a pirate radio station was within range.
When he wrote
Paperback Writer
, McCartney had been living in an attic room in his girlfriend's parent's large townhouse on Wimpole Street for almost two years. His girlfriend, Jane Asher, and her brother, Peter, then in
Peter and Gordon
, were both well-read and had large collections of books. The influence of living in an upper-middle class artistic household on McCartney was immense: he attended first nights, art openings, concerts of experimental music, all of which fed into his musical compositions. By this time he was collecting his own library.
In the autumn of 1965, my partner John Dunbar and I opened
Indica Books
and
Gallery
in Mason's Yard, off Duke Street St. James's in Piccadilly. The third partner in the enterprise was Peter Asher and through him, one of the helpers who filled in holes in the wall, painted and put up shelves, was McCartney. Before we opened, I assembled the stock of the bookshop in the basement of the Ashers' house in Wimpole Street. Some days when I went in I would find a note from McCartney saying that he had taken some books: one listed
Peace Eye Poems
by Ed Sanders,
Drugs and the Mind
by De Ropp, Gandhi on non-violence and a book of poems by the Finnish poet Anselm Hollo. He had eclectic taste.
At the time, 1966, he said in an interview that his Auntie Lil had jokingly complained to him:
"'Why can't you ever write about a horse or the summit conference or something interesting?' So I thought: 'All right, Auntie Lil. I'll show you'."
A more recent claim came from the DJ Jimmy Savile, who says he was reading a book backstage when John Lennon asked McCartney what they should write about next. McCartney's reply was:
'Why not write about that book Jimmy is reading?'
More significantly, McCartney once remarked that he liked the way the phrase
paperback writer
sounded, and wanted to build a song around it. His songs often had such small beginnings:
Temporary Secretary
was another.
He told me that he had the idea for
Paperback Writer
while driving out to John Lennon's house in Weybridge in the stockbroker belt for a songwriting session. McCartney:
"You knew the minute you got there you'd have a cup of tea and you'd sit and write, so it was always good if you had a theme. I'd had a thought for a song and somehow it was to do with the Daily Mail so there might have been an article in the Mail that morning about people writing paperbacks."
By the time McCartney arrived in Weybridge he had the song's structure in his head. McCartney:
"I told John I had this idea of trying to write off to a publishers to become a paperback writer, and I said I think it should be written like a letter. I took a bit of paper out and I said it should be something like 'Dear Sir or Madam, as the case may be...' and I proceeded to write it just like a letter in front of him, occasionally rhyming it. And John, as I recall, just sat there and said: 'Oh that's it', 'Uhuh', 'Yeah'. I remember him, his amused smile, saying 'Yes, that's it, yes.' You know, if it ain't broke don't fix it. 'That'll do'. Quite a nice moment. 'Hmm, I've done right! I've done well!' And then we went upstairs and put the melody to it. John and I sat down and finished it all up. I had no music, but it's just a little bluesy song, not a lot of melody. Then I had the idea to do the harmonies and we arranged that in the studio."
It was the first Beatles single that was not a love song.
McCartney had suggested that Lennon launch his second book,
A Spaniard in the Works
, at Indica bookshop but his PR people thought the premises were too small. McCartney had set up an arrangement with Indica that any books, art books in particular, or magazines that I thought were interesting should be sent to all four of the Beatles. I tended to get in paperbacks because they were cheap and our clientele was young and often impoverished. I had imported American paperback copies of a number of popular titles that were not yet published in Britain: these included Henry Miller's
Sexus
and Hubert Selby's
Last Exit to Brooklyn
, that was out in paperback in the States long before being published here.
In the song lyrics
Paperback Writer
is
a dirty story of a dirty man
so maybe he had Miller or Selby at the back of his mind. It is strange to think back to a time when paperbacks were actually a new thing and not regarded as proper books; Faber coyly called theirs "paper-covered editions".
Paperback Writer
recognized that they had become part of our lives, worthy of a song.
The Beatles "Paperback Writer" promotional video taken from the Anthology Episode 5-6. (2.15 minutes)
youtube.com/watch?v=oaYJaFWTHgM