Post by christine~ on Apr 14, 2008 15:53:53 GMT -5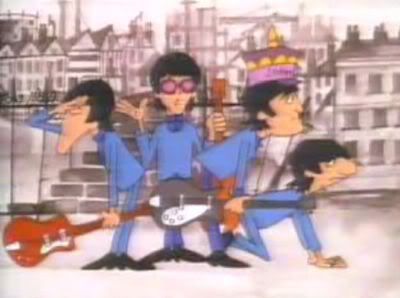 Paul Collins of the Weekend Stubble Blog writes:
" ... Idly YouTubing the song
Paperback Writer
brought up
a transfixingly awful Beatles cartoon series
that aired in the mid-Sixties. John and George were voiced by the same guy that did Boris Badenov. (Seriously!)"
From the UK site Television Heaven:
Brian Epstein, the Beatles manager, was so horrified of what the British public may have thought that he banned the series from being shown in the UK....When The Beatles cartoon series premiered on ABC's Saturday morning line-up at 10:30 am EST on September 25th 1965, it captured an unprecedented 52 per cent of the audience. The show proved to be extraordinarily profitable.... But in the early 1990s the series' rights were purchased by the Beatles own company Apple Corps. Ltd. Since then they have been kept firmly out of sight.
posted by Paul Collins @ 1:53 PM
on
weekendstubble.blogspot.com
Eppylover says:
The boys were with Brian when they were given this preliminary viewing of
The Beatles Cartoon Show
. Brian regretted that he had okayed the show ahead of time with Al Brodax for US viewers, but by golly, he made sure he wasn't embarrassed by it in his own country!
Basically, the only one even slightly amused was easygoing Ringo ~ who got a kick out of his "dum-dum" character portrayal.
I like the base drawings of the boys, though. We used them as models for our own little doodles and "comic strips" we drew in high school (I graduated in 1969). Our little clique consisted of four, sometimes five Beatle fans (I was the Brian fan, but they sometimes "assigned" me to Ringo, too) ~ three of us had the experience of attending the August 13, 1966 Beatle concert in Detroit.
But that's another story entirely.